"The project we are formally launching is a dream come true," said Naftali Bennett, Israel's minister of education at the November 16 conference to establish Meet@5, a groundbreaking new program led by the office of the prime minister of Israel and the ministry of education in partnership with Google and World ORT Kadima Mada (Science Journey). Meet@5 is part of the national effort by Israel to increase the number of boys and girls studying math and science at top level 5 units.  It will be implemented this year in 125 schools across Israel, training outstanding math students in 10th and 11th grades to serve as tutors to middle school students to help them progress in math. The high school students will serve as mentors within the framework of the social involvement hours they are committed to contribute to the community.
Bennett added, "It brings together all the things we want in education: Hard work, determination, overcoming difficulties and teamwork, alongside fellowships, giving, responsibility and a sense of competence for the tutor."
At the conference, Kadima Mada national director Avi Ganon commented, "This partnership is a breakthrough for the education system and another step to strengthen relations for the benefit of the children of Israel."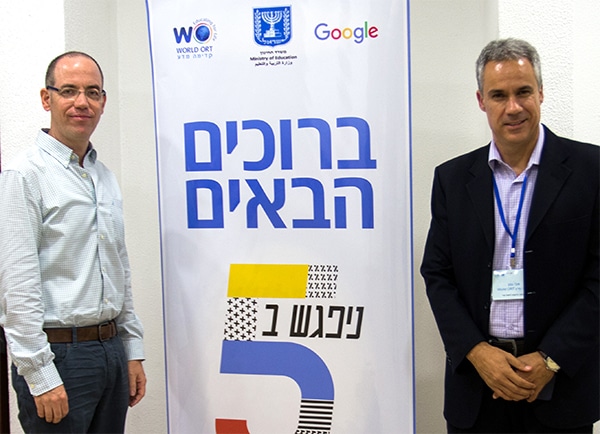 Many distinguished guests turned out for the debut of the program, including Yossi Katribas, senior deputy director general in the office of the prime minister, Doron Avni, director, public policy & government relations, EMEA Emerging Markets at Google, and Moti Dotan, chair of Kadima Mada.
In Israel from 2006-2012, there was a 30% decrease in the number of high school students graduating with level 5 math, resulting in a "strategic threat to the country," according to Bennett.  The Meet@5 initiative is based on the belief that the high school students will be a model of inspiration for the younger students, who will thereby be motivated for success in scientific fields in general and math in particular.  More than 90% of graduates of Israel's engineering facilities have achieved level 5 math in high school, but the country is not producing enough engineers for its high-tech sectors. Seven thousand students are graduating this year.
Ganon explained the importance of the program. "We see this program as an opportunity to encourage and guide more youth to choose the world of science and technology, which is a key to economic independence and equal opportunity in Israel.  This program is additional leverage to help expand the scientific-technological reserve of Israel, and will contribute in the long run to reduce gaps between the periphery and the center."
Last year World ORT Kadima Mada launched a project to enhance the knowledge of 200 math teachers in Israel to stem the decline in high school graduates who have achieved level 5 math.
ORT America supports World ORT, whose global innovative educational framework enables thousands of youth and young adults to develop skills for careers in an increasingly higher-tech society.  ORT spans the socio-economic divide, and with optimal teaching environments and targeted instruction, ORT graduates embark on paths to success and ORT shapes the world for a better future.