High-tech Training Enhances the Jewish Community of St. Petersburg
The ORT Vocational Training Center (VTC) in the St. Petersburg Jewish Community Center (YESOD) offers a wide range of innovative educational services to the city's Jewish population of 100,000. With two computer labs and staff specialists in adult education, the mission of the VTC is to provide members of the Jewish community with knowledge to advance their information technology (IT) skills. Professional development instruction offers members of the Jewish community a competitive advantage that helps them retain jobs and compete successfully for new jobs.
Establishing a new Resource and Training Center will increase instruction options and enable the center to expand the scope and reach of this program. The target audience is comprised of young people ages 18-35 (students and young specialists); adults ages 35-60 (including unemployed individuals); and seniors ages 61 and older (including retirees).
A Hands-on Approach for Local Jewish Organizations
The VTC offers ways to optimize qualifications for staff of Jewish community organizations, such as enhancing the skills of a new public relations manager of another St. Petersburg Jewish center.
Elena Tel-Alekseeva, the director of a Jewish charity foundation, explains. "We employed a new staff member in March. Her responsibilities include collaboration with designers and publishing. We asked our partner – the ORT St. Petersburg Training Center – for professional training courses for her, and a customized course for Adobe Illustrator was developed for us. We have full confidence in the expertise of ORT teachers, and this is not the first time we've had our employees study at ORT."
Building the Career of a Teenager Who Gives Back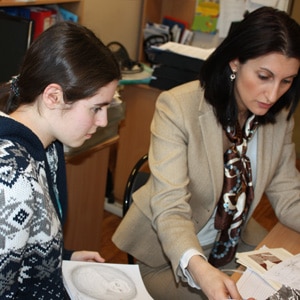 Artistically inclined, when Anna Ryndina was 14 she took part in a joint project for teenagers between ORT St. Petersburg and a Jewish family center, enrolling in courses in computers, CorelDRAW, and Adobe Photoshop. Subsequently Anna attended summer school at Brandeis University, where she enhanced her painting skills. As a rather famous young painter in St. Petersburg, Anna actively promotes her projects via social media.
Last year Anna returned to ORT as a volunteer, becoming involved in an ORT charity project called Fates of the Holocaust Children, and she helped illustrate a book of poems written by a survivor of Ravensbrück concentration camp.
Anna is grateful for the opportunities she has had since completing studies at ORT. "These courses are great help for teenagers starting out and choosing their career. I'm happy that my painting skills were of use when working on Fates of the Holocaust Children. It's very important for everybody to remember the tragedy of the Holocaust and do our best to prevent it in the future. I'm proud that my drawings illustrate the poems of such a brave and strong woman as Stella Nikiforova Kugelman."
Teachers Benefit from Specialized Instruction
Residents of the city are not the only ones to study in the ORT St. Petersburg Training Center. Over 90 teachers from schools, universities and education centers in Russia, Ukraine and the Baltic States participate in a distance course entitled Developing Modern Technology Competence: Modelling an Autonomous Vehicle, which examines the latest methods in STEM education (science, technology, engineering and math), how to teach robotics more effectively, how to prepare students for international competitions in robotics, and other subjects.
Several ORT teachers are among the participants. Nina Botina, a teacher of information science at ORT Tallinn school, says, "This course gives us a unique opportunity to upgrade our qualifications for teaching robotics, which is very topical. Another important aspect is earning a certificate, which provides the opportunity to pass the compulsory state qualifying review and maintain – or even raise – one's salary."
Helping more Jewish people on their career track in Russia and in other countries in the former Soviet Union is a priority of World ORT. With your gift, we can make that happen.