A visionary is someone who "thinks about or plans for the future with imagination or wisdom." This is the perfect way to describe past and current leaders of ORT, and generous donors like you, who have joined us to give others the life-changing gift of education. Throughout the year, we are sharing stories of ORT's visionary leaders and the ways they used their imagination and wisdom to build a global network of schools and training centers. This will give you a taste of what your gift makes possible and the ORT legacy that you are carrying forward. As you read their stories, keep in mind that we can only continue this legacy with your support.
We'd like to introduce you to two such visionary leaders, Jacob Oleiski and Anna Khodorovskaya.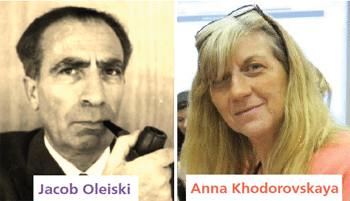 Jacob had the extraordinary gift of seeing a future in the face of unimaginable destruction. After World War II, Jacob a principal at an ORT school, understood that training and education would be the key to rebuilding lives, so he opened an ORT school in the Landsberg Displaced Persons (DP) camp in Germany. This enabled Holocaust survivors who had lost everything to learn trade skills like tailoring, radio technology and more. Jacob established ORT programs in DP camps throughout Europe, reaching nearly 20,000 students, and giving them the chance to rebuild their lives.
Though separated by decades and circumstances, Anna shares Jacob's foresight and optimism.
Anna is the manager of educational projects in the St. Petersburg ORT vocational training center.
The innovative center educates high school students to seniors. The labor market in Russia is rapidly changing, and Anna, always thinking towards the future asked, "What will my students need to be able to secure jobs in the coming years?" Her answer was creating programs that provides a combination of information technology training, vocational guidance and career days. With an emphasis on hard skills like digital technology, coupled with soft skills like public speaking, Anna knows that this approach will open up endless possibilities for her students. From a DP camp in Eastern Europe to the heart of a bustling Russian city, both Jacob and Anna realized that education and training enables people to not just survive, but to thrive. This is the power of ORT. This is the power of your gift. Thank you for being a visionary and carrying ORT's mission forward. With your help, we give 300,000 individuals in 37 countries around the world access to an enriching education that builds a foundation for future success. Thank you!