The ORT New York Next Gen contingent – professionals in their 20s and 30s who are active in Jewish philanthropy – proudly participated in the Celebrate Israel parade held June 4 on Fifth Avenue.  The sizeable group included young adults who visited Israel in March on the ORT Next Gen mission and others who want to encourage support of a worthy cause.
Steve Silberman had a meaningful experience.  "ORT Next Gen had an awesome turnout and a great time marching for Israel. Participating in such an important event furthers our mission of providing world-class STEM education to at-risk youth in Israel and around the world," he said.
The Next Gen attendees had a festive time walking north to 74th Street as a show of solidarity with the State of Israel, distributing ORT brochures and tshirts along the route, and they enjoyed a post-parade party at Sojourn Restaurant on the Upper East Side.
Morgan Newman, another participant, was inspired by the event.  "The parade was an incredible way for ORT Next Gen NYC to support the work of World ORT Kadima Mada from across the Atlantic Ocean.  After visiting Kadima Mada schools earlier this year, I definitely walked a little taller knowing the work we do provides educational resources and priceless opportunities for students in Israel's periphery."
---
ORT Provides a Solid Academic Foundation in Russia
A young math wiz excels at a Moscow ORT school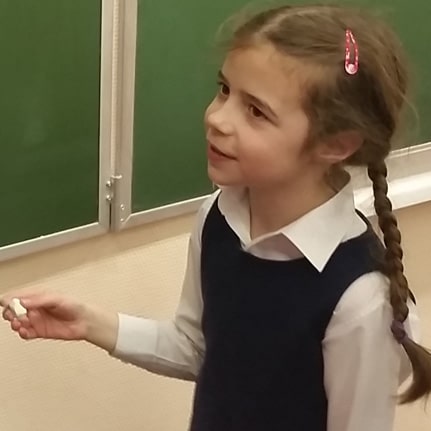 Marta Belyaeva is a first grader in the Moscow Centre of Education # 1311 Tekhiya ORT School, who recently took first prize in an inter-regional math tournament, Snezhnaya Zarnitsa (Snow Lightning).
Marta comes from a family whose members have excelled in math. Her great-uncle, Pavel Blekher, is a known mathematician; her 16-year-old uncle, who attends the same school, is best in math in his class; and her brother Marc repeatedly won prizes at the Mathematical Olympiads.  In kindergarten Marta exhibited the ability to add three-digit numbers mentally and other mathematical equations advanced for her age; Marc was a major influence on her, motivating Marta to explore math further.  She attended the same math club Marc had attended, and her parents enrolled her in some other mathematical circles as well.   Her mother Dina explains the decision to send her to the ORT school. "When Marta was ready for first grade, we had no doubts about sending her to Tekhiya ORT School, because there our children can be who they want to be," she said.  "Thanks to ORT support, there are wide possibilities to use up-to-date digital technologies and develop the abilities of our children."
Developing cutting-edge training programs – expanding educational opportunities in under-privileged areas – providing robust academics paired with Jewish values – these are some of the ways ORT transforms the educational landscape worldwide.  Your generosity powers our work. Won't you please give today?