Survival and Solidarity as ORT Network Reacts to Israel Crisis
"These have been the hardest days of my life."
For Amos Gofer, CEO of World ORT's Kfar Silver Youth Village – just a few miles from the Gaza border – and his staff, last weekend was a chilling experience.
"We were willing to die for the students," he explains. "After a few hours, I said I'm evacuating all the students and everyone from the village because no one was coming to help us."
Thanks to the heroic actions of two coach drivers who were prepared to travel to the village despite the rocket attacks, it was possible to evacuate more than 60 students to safer areas in the north of the country. Thankfully, the vast majority of Kfar Silver's 1,000-plus students were already off-site for the festival of Simchat Torah.
Amos explained how the day unfolded during an emergency briefing call joined by more than 200 ORT supporters worldwide.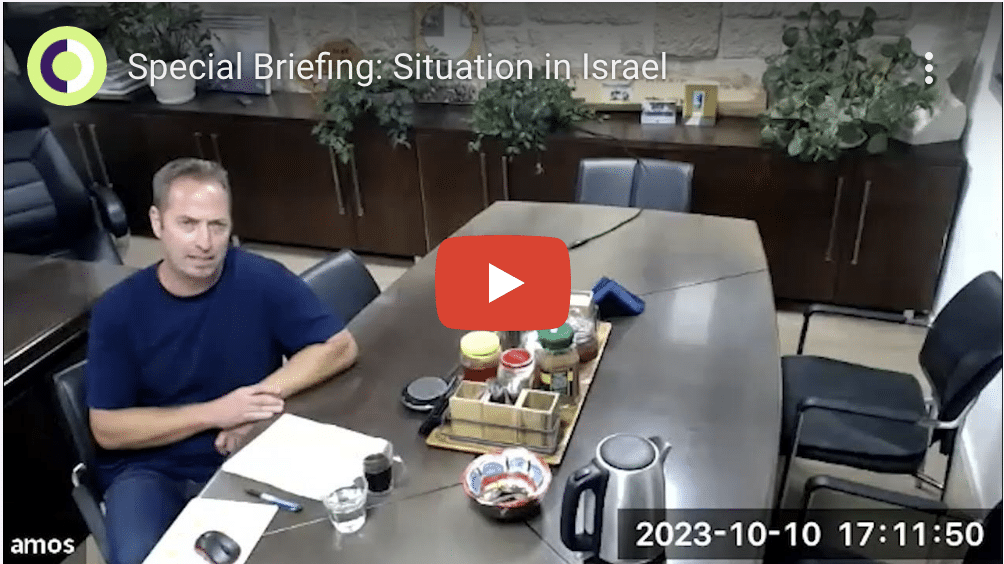 "There was an emergency alarm – but it is something we are used to. We woke up and we were calling the people in the boarding school, telling them to take all the students to the safe rooms.
"A lot of those students are from Russia and Ukraine, children aged 14, 15 – it was very upsetting for them. We understood within a few minutes that this was different because of the magnitude of the bombs and the noise."
The students were quickly moved to a building that the village uses to keep safe for longer-term operations – with significant provision of food, activities, and other essentials. But with many of Kfar Silver's High School students living in the kibbutzim close to the Gaza border, calls and messages soon flooded in making clear the extent of the situation.
As Amos called police and other security services it became clear that no immediate assistance would be available as forces dealt with the emergency across the south of the country. Eventually, thanks to the kindness and bravery of the coach drivers, it was possible to get all the students out of the village. Only a small number of staff members now remain, ensuring that animals on the village's farm are looked after and that the security of the village is not compromised.
Although thankfully the students and teachers are now in safer areas, tragically many of them have lost family members and friends in the attacks. It is thought more than 30 people with ORT links have been killed or kidnapped by terrorists. Of those, a number of Kfar Silver graduates have been killed serving in the IDF.
Dr. Moshe Leiba, Chief Pedagogy and R&D Officer of World ORT Kadima Mada, emotionally told the briefing: "It's very moving to see the huge support and love that we are getting from all around the world – from students, from staff, from leaders, from everybody. I think this is what makes us strong."
He explained how Kadima Mada would be working to take learning and classes online – starting this week – while schools in Israel remain shut.
"The first week will concentrate on giving relief activities and stress relief for anxiety. A lot of our students and staff are suffering from post-traumatic stress disorder or acute anxiety. Some students and some staff are unable to function, while others are proactive," Dr. Leiba explained.
World ORT Kadima Mada has more than 10,000 students across Israel, primarily in the northern and southern periphery in places such as Beer Sheva, Dimona and Kiryat Yam.
Dr. Leiba added: "All our principals, managers, and teachers are in direct contact with their staff and students on a daily basis, talking to them, showing them everything will be okay, and helping to provide stress-relief activities."
In a separate online meeting, dozens of students from ORT schools worldwide came together virtually to show their support for peers in Israel. Following prayers and candle-lighting, and updates from Dr. Leiba, Israeli students shared their experiences. Aviv, in the north of Israel, said: "I pray that we will have better days, brighter days, in Israel and the whole world."
Eloisa Molina, a psychologist from Colegio Olamí ORT in Mexico City, gave students tips on how to recognize the symptoms of someone struggling with traumatic events. They heard how to help themselves and others with emotional self-care, and what actions at home and school are helpful and unhelpful.
During the call, some students in both the north and south of Israel were forced to run to bomb shelters as emergency sirens were sounded.
Students joined the call from schools in Argentina, Brazil, Estonia, Colombia, France, Ukraine and elsewhere. There have also been security implications for our Jewish schools worldwide. In some countries, ORT schools have been protected by armed guards in recent days following threats made online and directly.
ORT's emergency international fundraising campaign will help provide the urgent educational and psychological support our students, teachers and their families across Israel need. We will help our students process the trauma they are experiencing and build resistance to the horrors of terrorism and war.
Dan Green, World ORT Director General and CEO, said: "The student solidarity event was one of the most moving ORT meetings I've ever been at. Our supporters will enable us to provide vital services to meet the immediate needs of students and their families, support our staff, and strengthen security measures now and for the future."