Corporate Sponsorship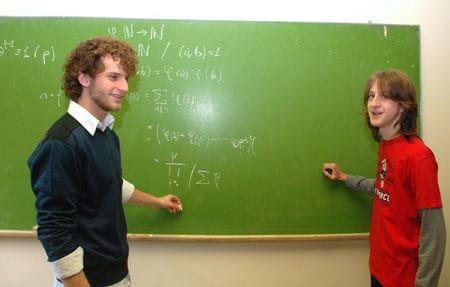 ORT has been at the forefront of educational initiatives for over 130 years, becoming a global presence that enhances educational opportunities for hundreds of thousands of individuals worldwide. With an increase in demand for our programs that focus on STEM* and offer outstanding knowledge and skills for employment in an increasingly higher-tech society, the need for funding has expanded proportionately. ORT educational programs prepare people for jobs in our interconnected, technology-reliant global economy and ORT enriches communities wherever it has a presence, providing access to Jewish studies and values in addition to its robust STEM curriculum. Our corporate partners not only help educate and train the workforce for the 21st century, but contribute to our efforts to transform the lives of thousands in the United States and throughout the world, notably in our priority funding programs in Israel, the former Soviet Union and in the ORT international networking framework.
Sponsorship is Beneficial
While our corporate partners make a substantial difference at the institutions and in the programs we support, partnering with ORT America is also beneficial to your company. It allows your company to highlight its commitment to empowering individuals to succeed in today's workplaces, and to strengthening disadvantaged communities via educational opportunities that thousands benefit from.
Innovative Partnerships
ORT is expanding its role as a corporate partner by working collaboratively with industry leaders to ascertain their workforce needs and produce graduates that meet these needs, which gives our graduates a competitive advantage as they begin their careers. We partner with companies across the pharmaceutical, accounting, medical, high-tech, alternative energy, natural gas, engineering and architectural spectrum to produce employees with capabilities to advance industries, economies and communities.
Become a Partner in Education
ORT America offers partnership opportunities that take your interests to account and focus on specific program(s), region(s), or community(ies). Examples of sponsorship funding options include:
$100,000 Installation of a future learning space in Israel or the former Soviet Union
$50,000 Implementation of an innovative pilot pedagogical program OR the renovation of a school lobby
$36,000 Renovation of a school laboratory, including infrastructure upgrades, new equipment and supplies
$25,000 Refurbishment of a classroom, including infrastructure upgrades, new equipment and supplies
$10,000 Supplementing STEM* instruction, combined with after-school STEM yearly course for 15 students
$5,000 STEM yearly course for 15 students OR 5 laptop computers for students/teachers
Recognition for corporate sponsorship can be given at ORT events, in the annual report and in any other materials where donors are listed.
*science, technology, engineering and math