Trish and Mark Adler receive 2016 Maimonides Award at 45th Annual ORT America Brunch

Trish and Mark Adler received the 2016 ORT Maimonides Award for Community Service when they were honored at ORT America – Northeast Ohio's 45th Annual Brunch on Sunday, October 30, 2016.
"We are pleased to honor Trish and Mark with this award," ORT Northeast Ohio President Gary S. Desberg said. "Both Trish and Mark have made valuable contributions to our community in many ways, and have an impressive commitment to and involvement in the Cleveland Jewish Community, to Israel, and to education. The impact of their dedication and commitment to the greater community can be felt in many of our institutions."
Funds raised at the event will be designated to the renovation of the Kfar Silver Youth Village, the newest addition to the World ORT Kadima Mada network of programs in Israel.
Co-Chairs for the event were LuAnne and Ron Fisher and Sue and Mitch Frankel. Vice Chairs were Lori and John Herman, Michele and Bob Lee, Shari and Michael Perlmuter, Susan and Steve Rubin, Joan and Chuck Whitehill and Ellen and Dan Zelman.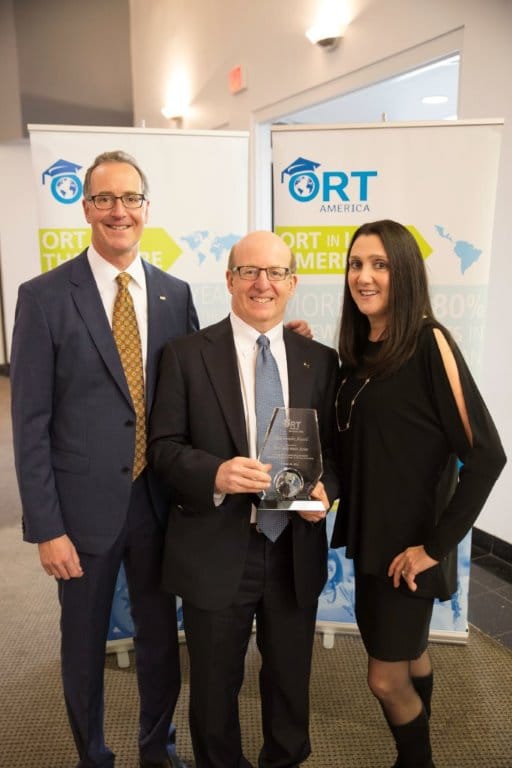 To see more pictures from this event, click here.
2016 Invite                 Reply Card                 Committee List
---
Director Roni Wallace recognized and thanked for her 31 years of service

ORT Ohio Region Director Roni Wallace was recognized and thanked for her 31 years of service at Northeast Ohio's 45th Annual Brunch on Oct. 30, 2016.
Roni will retire at the end of the year, after devoting herself to the success of ORT and ORT students in Israel, the Former Soviet Union and around the world for 31 years. Wallace's passion, dedication and commitment have enabled ORT to provide the tools necessary for countless students to achieve success. Char Rapoport Nance has been named to succeed Wallace as the new Region Director.
A classroom in the Science Building at Kfar Silver will be named in Wallace's honor, as a gift of the ORT leadership with whom she has worked over the years. A video, "Roni is…" was also shown at the event, giving current and former ORT leadership an opportunity to thank her for all her work on behalf of the organization.
For additional information about Kfar Silver and how you can support the effort to renovate the Science Building, click here or email ohio@ortamerica.org.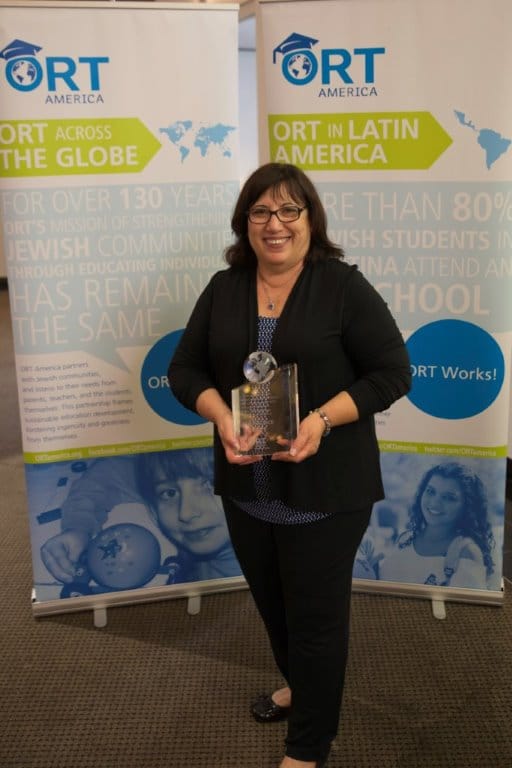 Listen to the messages the current and former Northeast Ohio ORT leaders had for her when asked to complete the sentence, "Roni is…"
---
About ORT Ohio Annual Brunch
The annual ORT Brunch, begun in 1972, has been the culminating event for the Annual Campaign. For over 40 years, ORT has honored outstanding leaders of the general, Jewish, and ORT communities.
In 2014, the annual ORT Award was renamed to align with the values of the Jewish sage, Maimonides.  Maimonides outlines seven levels of charity; the highest level is to help a man help himself. This has always been and will continue to be, the essence of ORT's mission. The annual award presented by ORT America is now known as The Maimonides Award.