Contact Information
ORT FLORIDA REGION
6001 Broken Sound Parkway
Suite #422
Boca Raton, FL 33487
Phone: (561) 997-1071
Fax: (561) 997-1072
florida@ortamerica.org
---
The Florida Region Presents

The Magic of ORT… Celebrating 100 years of ORT in America
Honoring: Sandy Brandner and Vicki Solomon
& The Shirley Sokolsky Leadership Award recipient(s): Cheryl & Neil Karadbil and Arthur Rottenstein
Featuring the Magic, Mentalism and Comedy of Larry Greenberg
Thursday, October 20, 2022
Place: Westchester Country Club -12250 Westchester Club Dr., Boynton Beach, FL 33437
Date: Thursday, October 20, 2022 - Time: Dinner and wine will be served promptly at 6:00 PM
Event Chairs: Rose Feinberg, Ronnie Giordano, and Gail Kuhn
---
For more information, please call (561)997-1073 or email Robin Isaacson at Risaacson@ortamerica.org
---
Featured Entertainment:  Larry Greenberg has been performing his unique style of magic and mentalism throughout the country and around the globe for the past 25 years. A New Jersey native now residing in South Florida, he has performed for some of the largest corporations in the world and for some of the most famous faces on the planet. You'll be on the edge of your seat as you witness demonstrations of mind reading and mentalism like you've never seen before and that you'll never forget! It's going to be an exciting night of fun and laughs you won't want to miss!
---
Sponsorship, Digital Ads and attendance tickets include 1 commemorative 100-year gift designed by artist Lori Charnow
$5,000 Classroom Sponsor
4 tickets, textbooks, supplies & outfits 2 classrooms
$2,500 Scholarship Sponsor
2 tickets & 1 year's tuition for a child
$1,800 The Magic of ORT… Celebrating 100 years of ORT in America Sponsor
6 tickets & donation to all 4 Science of Learning programs at Kfar Silver
$1,000 Student at Risk Package
1 full page & 4 tickets
$800 Open or Closing Page
2 tickets

$600 Gold Page**
2 tickets
$500 Silver Page*
1 ticket
$360 Full Page*
1 ticket
$180 Half Page

$100 Quarter Page
Annual Dinner Tickets: $140 per person
$1 for every year ORT has been educating our students and includes one commemorative 100-year gift designed by artist Lori Charnow

*Ads equivalent to $360 entitle the purchaser/advertiser to 1 Annual Dinner ticket
**Ads equivalent to $600 entitle the purchaser/advertiser to 2 Annual Dinner tickets
---
Exclusive ORT America Tzedakah Box Designed by Gary Rosenthal!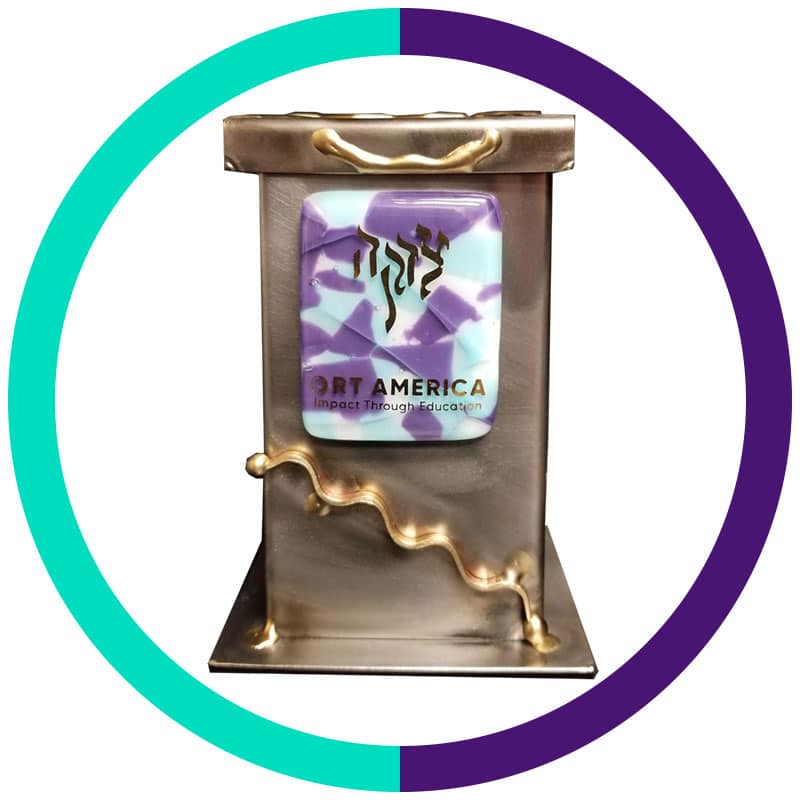 This is the perfect wedding, housewarming, hostess, thank you holiday or any type of Mazel Tov gift!
Gary Rosenthal has been sculpting in welded metals and fused glass since the early 1970's. Work from the collection has been presented to U.S. Presidents and celebrities. His work has been seen worldwide in many fine galleries, private collections, museum shops and perhaps in your own home!
Exclusive ORT America Tzedakah boxes - $100 per Box plus $15.00 if shipping
Mail in your order here to the address below:
ORT America Florida Region
6001 Broken Sound Parkway
Suite #422
Boca Raton, FL 33487
561-997-1071