Contact Information
ORT FLORIDA REGION
6001 Broken Sound Parkway
Suite #422
Boca Raton, FL 33487
Phone: (561) 997-1071
Fax: (561) 997-1072
florida@ortamerica.org
---
Florida Region of ORT invites you to honor
Jewish Heritage Month and virtually join us for
Presented by Dr. Rose Feinberg
Discover how each woman's life and Jewish heritage related to steps they took to become a Supreme Court Justice! Tune in through zoom for an afternoon of learning and inspiration while supporting our 200,000 ORT beneficiaries in 30 countries.
May 3rd at 3:00 pm ET
$25 – sponsorships to support our students are available
For more information, please call (561)997-1073 or email Robin Isaacson at Risaacson@ortamerica.org
To register or be a sponsor, click here.
---
About the speaker: Dr. Rose Feinberg is a popular presenter in South Florida and an FAU Lifelong Learning Instructor for several universities.  Rose earned her Doctor of Education degree from Boston University and was a school principal in Massachusetts.  Her prior careers in education and her theater training have enabled her to research and create many dynamic, informative, and entertaining programs, using PowerPoint and video clips.
---
Sponsorship Levels All Include the $25 Entry Donation
$1,000 Law School Sponsor
Provides ACCESS TO ENRICHMENT for one student from an under-resourced community in Israel to participate in STEM-focused after-school enrichment course for one year.
$500 Judge Sponsor
Provides SUPPORT FOR SPECIAL NEEDS STUDENTS to address the educational and social challenges of one student for an academic year.
$250 Judge's Chamber Sponsor
Provides a HEALTHY LEARNING ENVIRONMENT in an entire school to help reduce the spread of germs and ensure the safety of students and teachers.
$100 Jury Sponsor
Provides TRADITIONAL JEWISH HOLIDAY FOOD for one classroom's worth of apples and honey for Rosh Hashanah; doughnuts for Chanukah celebrations; or Matzah for Pesach celebrations; encouraging students to develop a love for their Judaism
To be a sponsor, click here.
---
Exclusive ORT America Tzedakah Box Designed by Gary Rosenthal!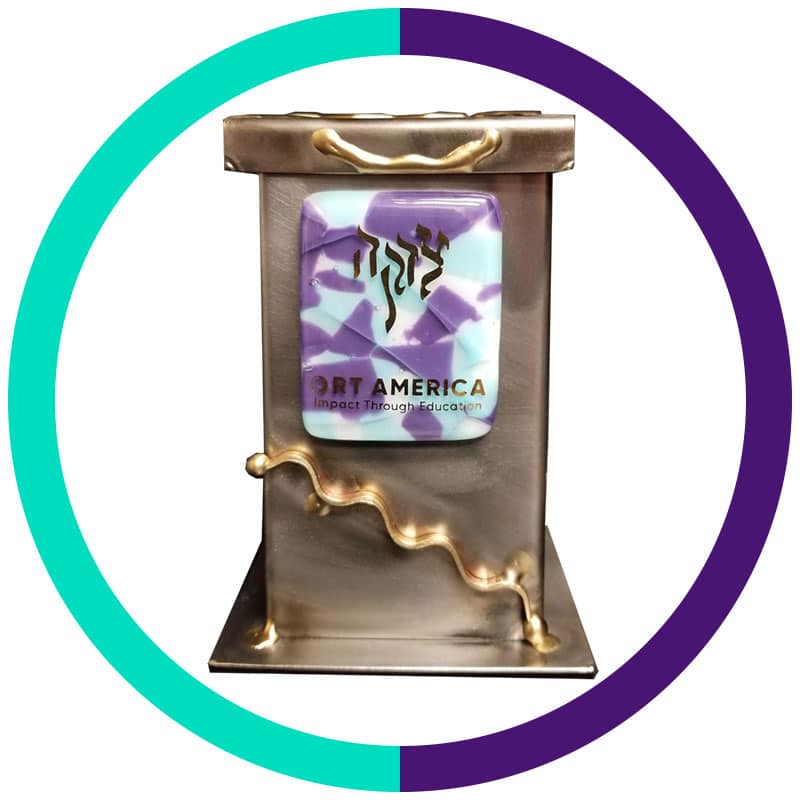 This is the perfect wedding, housewarming, hostess, thank you holiday or any type of Mazel Tov gift!
Gary Rosenthal has been sculpting in welded metals and fused glass since the early 1970's. Work from the collection has been presented to U.S. Presidents and celebrities. His work has been seen worldwide in many fine galleries, private collections, museum shops and perhaps in your own home!
Exclusive ORT America Tzedakah boxes - $100 per Box plus $15.00 if shipping
Mail in your order here to the address below:
ORT America Florida Region
777 Yamato Road #100
Boca Raton, FL. 33431
561-997-1071