Events
1st Annual Honoree Gala Event: "PasspORT Through the years… Celebrating 140 years of Educating our Students"
Place: Westchester Country Club
12250 Westchester Club Dr Boynton Beach FL 33437
Date: Wednesday, February 26, 2020
Time: Dinner and wine will be served promptly at 6:00 PM
Couvert: $140 and includes 1 signed book, Daisies Pushing UP by Dr. Dana Godek
Couvert represents $1 for every year ORT has been educating our students!
Enjoy lavish international food stations representing a sample of the countries where ORT is proudly located
Couples are encouraged to join us
Featuring Guest Speaker/Author: Dr. Dana Godek
For 20 years, Dr. Dana Godek has been writing policy and conducting research. She has served as a teacher, public school administrator, national researcher, public education advocate, and federal programs expert for both urban and rural school districts, as well as not-for-profit organizations. Her first work of fiction, entitled Daisies Pushing UP, is based on her personal experiences growing up as a ward of the court in the 1980s. She has a Doctorate in Organizational Leadership and is widely recognized as an authority on public education policy and resource development. Recently, she developed Social Emotional Learning in Public Education Curriculum for Florida Atlantic University, where she is also an adjunct professor. Dana lives in Palm Beach County, Florida with her husband Bernie, a retired Army Colonel, and their 12-year-old son.
Honoring Lynda Rosenbaum & Barbara Siegel
Their years of significant commitment to ORT America and the critical needs of our students are immeasurable. We pay tribute to them for their outstanding support in ensuring that ORT continues to provide our students with the tools necessary to achieve academic excellence and opens doors for professional and lifelong opportunities.
The Florida Region is establishing in Shirley Sokolsky's honor and for the first time presenting, the annual Shirley Sokolsky Leadership Award. Shirley's service to ORT reaches from the Bob-O-Link Chapter, Lake County Region and Midwest District in Chicago to National Major Donor Chair while in Dallas and Florida. Shirley was chosen for a 6-week mission to ORT programs in France, Italy, Switzerland, Morocco, Iran, and Israel. Shirley is the quintessential ORT leader, beloved board member and friend to all.
The first recipient, Barbara Feifer is a dedicated and longtime member of the Palmward chapter. Barbara has opened both her heart and her home and over the years has worked tirelessly for ORT America. Barbara's leadership has inspired many and has made sure that ORT has taken root in South Florida.
Region Board:
Elaine Aarons
Sandy Brandner
Bryna Cohen
Karen Sue Cohen
Lois Dermer
Barbara Feifer
Rose Feinberg
Robyn Gellman
Marlies Gluck
Bob Gordon
Debra & Laurence Kanter
Cheryl Karadbil
Lynda Rosenbaum
Arthur Rottenstein
Kim Sheintal
Barbara Siegel
Janet & Ken Sulek
Maryon Weil
Judith Weinstein
Howard Lanzner: Chairman
Richard Bernstein: Executive Committee Chair
Barbara Birch: CEO
Toby Feuer & Barbara Ross: Florida Region Presidents
Florida Region Director: Robin Isaacson
Executive Assistant: Ilene Rubin
For more information, visit ortamerica.org/FLGala or contact Robin Isaacson at Risaacson@ortamerica.org or call
561-997-1071.
---
Invest in our Kfar Silver students to provide the tools and resources needed to raise the bar, overcome obstacles and leap over hurdles.
Together, let's build the spORT track that lays the foundation for a bright future. Join the Florida Region as we level the playing field for ORT students to learn, train, compete with skill and confidence, and realize their dreams of representing Israel at the Olympics.
How many meters does it take to help an ORT student reach the finish line?
Starter
$250
Discus thrower or Shot putter
$500 each
Sprinter
$1000 (a meter)

Clubhouse

$25,000

Locker Room

$25,000

Long Jump Zone

$36,000

High Jump Zone

$36,000

Throwing Circles

$36,000 (2 available)
Track
$100,000
Click here to contribute to Kfar Silver's Road to Gold. For more information, contact Robin Isaacson at Risaacson@ortamerica.org or call 561-997-1071.
---
---
Exclusive ORT America Tzedakah Box
designed by Gary Rosenthal!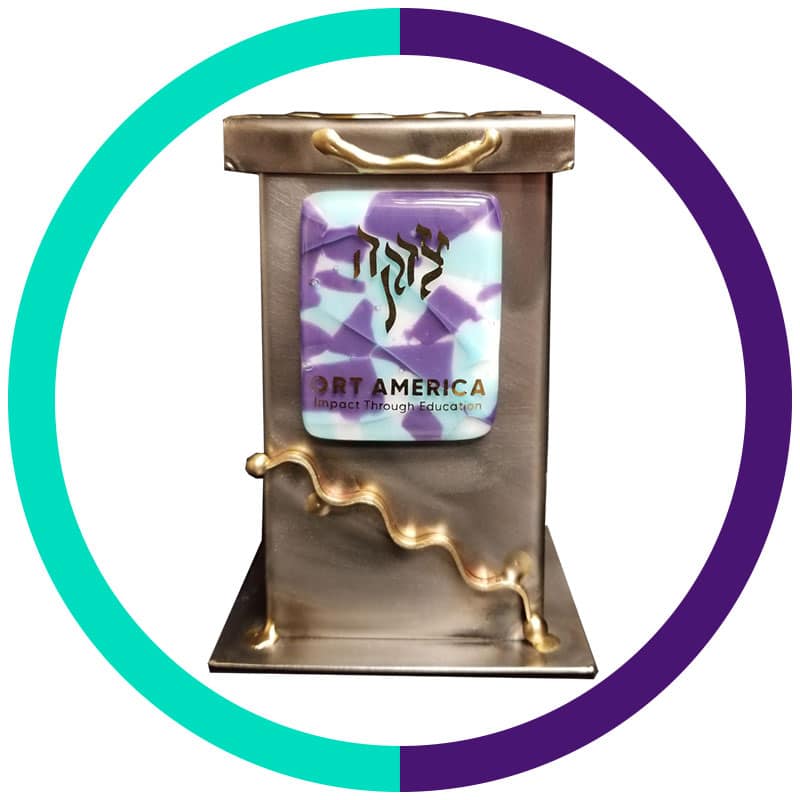 This is the perfect wedding, housewarming, hostess, thank you holiday or any type of Mazel Tov gift!
Gary Rosenthal has been sculpting in welded metals and fused glass since the early 1970's. Work from the collection has been presented to U.S. Presidents and celebrities. His work has been seen worldwide in many fine galleries, private collections, museum shops and perhaps in your own home!
Exclusive ORT America Tzedakah boxes – $100 per Box plus $15.00 if shipping
To order online click here or mail in your order here to the address below:
ORT America Florida Region
777 Yamato Road #100
Boca Raton, FL. 33431
561-997-1071