CHICAGO REGION
The Chicagoland Jewish community is one of the most vibrant, diverse and philanthropic in the country, located in an area that serves as a strong hub for innovation, technology and education. ORT Chicago, currently based in Northbrook, IL, operates as a regional office for ORT America, the leading fundraising organization for World ORT. Working in coordination with ORT America's main office in New York, ORT Chicago helps collect contributions for ORT's growing global network of schools and programs in 35 countries and impacts over 300,000 students annually.
ORT Chicago engages in a wide variety of development and community outreach activities, including two major annual events – ORT Chicago Leadership Lunch (October) and Lunch with a View (April). Smaller events, including parlor meetings, are also held during the year, many led by our active lay leadership. ORT Chicago outreach includes not only Illinois, but also Wisconsin and several other nearby states. We welcome and appreciate your involvement and support.
ORT Chicago Social Media
ORT Chicago maintains an active social media presence through its use of Facebook, Twitter, Instagram and Linkedin. Please consider visiting, joining or following all of these online platforms to stay up-to-date about ORT America and its mission, as well as local Chicago events and activities.
---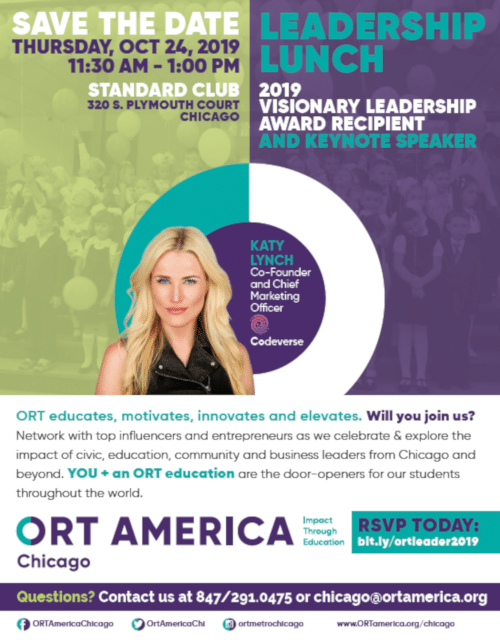 This year ORT Chicago is focused on raising funds to support girls and women in STEM. There is a significant gender gap in science, technology, engineering and math – 75% of all STEM jobs are held by men. ORT is working to level the playing field, empowering girls to pursue their dreams through access to leading STEM education.