O/ART and The City Virtual Art Auction
O/ART and The City Virtual Art Auction
OPENS: January 25th at 10:00 AM | CLOSES: February 1st at 10:00 PM
Preview of art begins January 22nd.
Site Opens to View art and auction items on January 22 at 10 a.m. at https://ortamerica.home.qtego.net/
EVENT DETAILS:
Even Covid 19 couldn't keep us down!
We have decided to make our O/ART and the City event a virtual one. Yes, A Virtual Art Auction!
40 fabulous artists, 40 extraordinary pieces of art, one-of-a-kind items, all available to bid on…and all benefiting ORT!
Participating artists were hand-picked and challenged to produce an original masterpiece centered around the theme Inspiration by Education.
We look forward to see you on line!
ABOUT ORT AMERICA:
For 140 years, ORT's educational and vocational programs have provided its students with the best possible educational preparation, social services assistance and financial support to remain in school and break the cycle of poverty.
Art Sponsors
Amy and Robert Arogeti
Rachel and Lior Baron
Brian Berman Mortgage Atlanta, LLC
Daniel Berman and Justin Lunin-Pack
Laurie and Sid Besmertnik
Beth and Gavin Brown
Diana and Daniel Cohen
Gavin and Thea Cohen
Barton and Michelle Day
Amy and Chuck Fox
Beth and Jared Friedman
Susan and Marshall Gerstel
Rhoda and David Gould
Carey and Jason Guggenheim
Etta Raye Hirsch
Jewish Federation of Greater Atlanta
Jenny and Norman Kalmin
Hope and Craig Kaufman
Barbara and Bill Klineman
Eydie and Steve Koonin
Brad Kozak and Natalia Migal
Lefkoff, Rubin, Gleason, and Russo, P.C.
Mira and David Liniado
Andrea and Andy Lipman
Susan and Michael Londe
Sari Marmur
Merlin Wealth Management
Oliva Restaurants: Bellina, Aziza, Rina and Falafel Nation
Rachel and Todd Orston
Sheri and Alon Panovka
Alexandra Korry z"l and Robin Panovka
Julie Rotenstreich JMR Interiors
Andrea and Ken Smith
Harvey Spiegel and Ellen Spitz
Allen and Merna Stein
Tamar and Mark Stern
Maya and Michael Sunshine
Arin & Lorne Tritt and The Joyce and Ramie Tritt Family Foundation
Village Idiots
Mitzi and Steve Waronker
Event Hosts
Beth Arogeti
Lauren and Eric Baylin
Brian and Mandy Berman
Hershene and Joel Borrin
Barrett and Rachael Brightwell
Anonymous
Dressler's Jewish Funeral Care
Felissa and Josh Covin
Lizette Dunay
Larry and Kathy Feldman
Isaac and Vanessa Frank
Rachel Weinthal Frank
Lisa and Steve Freedman
Suzanne and Rob Friedman
Howard and Ellen Feinsand
Judy Funk
Dara and Andy Grant
Lori Halpern
Jodi and Ben Halpert
Beth and Norman Harber
Bobby and Rachel Herman
Michal Ilai
Marcia and Richard Jacobson
Bruce and Hydi Kalmin
Kerri and Ezra Katz
Suzanne Katz
Gina Katz Kellis
Kim Kopelman
Charlene and Kal Koplin
Robyn and Jeff Klugman
Debbie and Doug Kuniansky
Jeff and Mara Lapp
Tanya and Amir Levin
Simone and Kevin Levingston
Andrea and Sam Levy
Debbie and Stewart Lewis
Diana Margolis
Randi and Gary Meyer
Laura May
Cristy and Eduardo Milrud
Michelle and Jon Mittleman
Julie and Jeff Mokotoff
Barbara and Mark Murovitz
Donna and Philip Newman
Vera and Stuart Newman
Jill and Derek Pollard
Kelly and Craig Richman
Robin and Fred Rosenberg
Ann and Rich Pulido
Stan and Sheila Schwartz
Terry and Bill Schwartz
Shelley and Howie Shapiro
Norma Shohet and Robert Kadoori
Jenna Shulman
Laurie and Nathan Slaff
Beth Sparks
Lauren and Hilton Sturisky
Ilana and Jerry Tolk
Lisa and Evan Toporek
Julie and David Weinstein
Laura Weiss
Sharon and Josh Wolf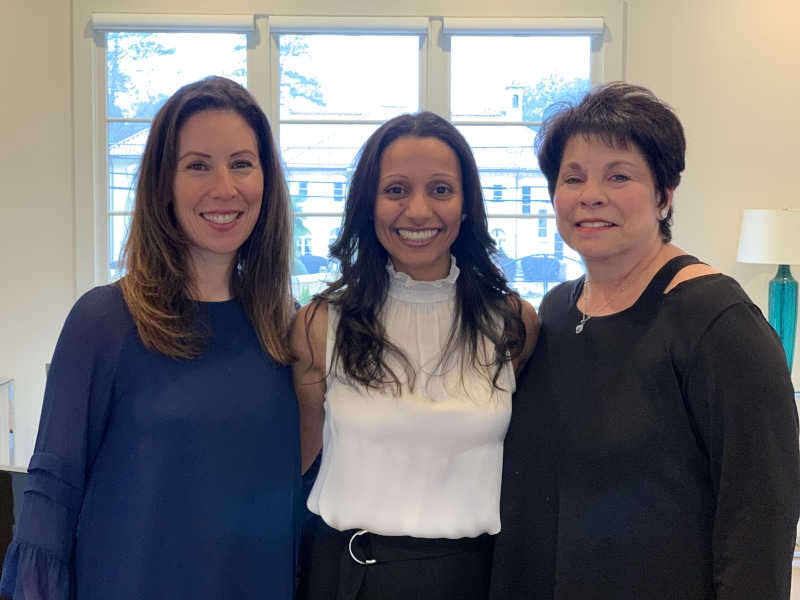 From left to right: Event Chairs Justine Cohen, Delilah Cohen, Lesley Berman