Contact Information
ATLANTA REGION
3495 Piedmont Rd NE
Building 12, Suite 418
Atlanta, GA 30305
Phone: (404) 327-5266
---
Keep up with ORT Atlanta
Sign up for regional news
The next honey sale will open in May 2022. Click here to be notified when the sale opens.
We ship a festive 8-ounce jar of 100% pure kosher honey anywhere in the world. Shipping within the USA is FREE for early orders.
To support ORT Atlanta order online at orthoney.com/ATL or email us at honey@ORTamerica.org or call the ORT Atlanta office at 404-327-5266 to request a honey order form.
The cost is $13 per jar and a portion of your purchase benefits ORT.
---
ORT America's Honey From The Heart Store
Your honey purchase supports ORT Atlanta's three major ongoing projects: Kfar Silver Youth Village and YOUniversity after school programs in Israel and the Moscow ORT Technology School's Future Steps Project.
Kfar Silver Youth Village, located near Ashkelon in Israel. Offers youth who come from challenging backgrounds new hope for a fulfilling and self-sufficient future. It serves a total of 750 students in grades 7-12, 35% live at the Village full-time. The Village includes a school and a farm where students study together and participate in the arts, cultural activities and agricultural work.
YOUniversity is another ORT flagship program. It offers afterschool fun and educational STEAM enrichment courses to young people, ages 5 to 18, in Israel's periphery: Beer Sheva, Kiryat Yam and Dimona and other locations.
When students from underserved communities gain access to high-quality education, they are better positioned to pursue higher education and enter the job market with specialized skills.
The Future Steps Project targets students with Autism Spectrum Disorder by providing special programs and additional staff to give individualized attention to aid students and support parents with their education and social development.
To order honey go to orthoney.com/ATL
---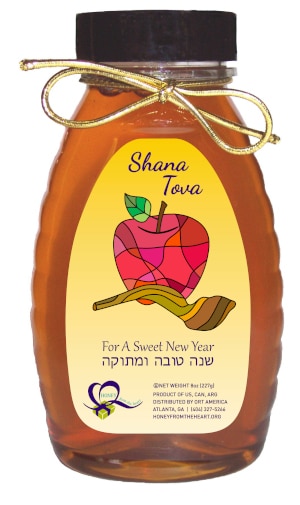 History of our Honey From The Heart project:
ORT Atlanta's Honey From The Heart sends sweet Rosh Hashanah greetings across the U.S. and around the world while raising money for ORT and other Jewish non-profit organizations.
Honey From The Heart was founded in 1990 when a small group of ORT Atlanta volunteers labeled hundreds of honey jars, wrote out gift cards and addressed mailing labels by hand. That effort raised a few hundred dollars.
Not wanting to limit this amazing fundraiser to Atlanta, the founders invited other ORT chapters to participate and keep a portion of the profit. Suddenly people from all over the country who received our honey were contacting us asking if their organization could sell it as well.
Now Honey From The Heart partners with over 250 Jewish non-profits including sisterhoods, synagogues, religious schools, and other organizations, and ships tens of thousands of honey jars every year.
Many of the original group of volunteers remain involved in the project. Their commitment to excellence and dedication to raising funds for ORT ensures the continued success of Honey From The Heart.