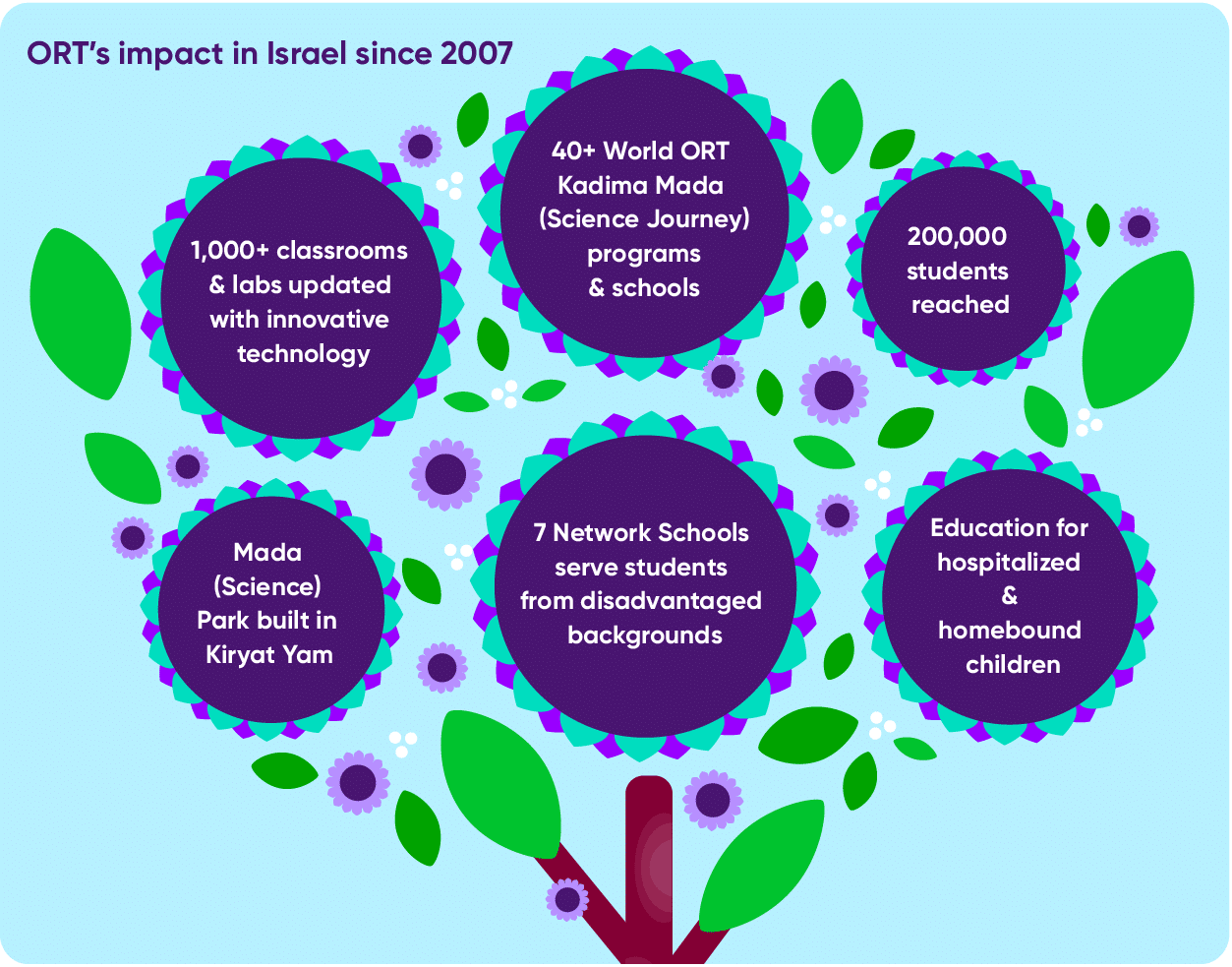 Affiliated with 200 schools that serve thousands from under-resourced communities in peripheral areas of Israel, World ORT Kadima Mada (Science Journey) focuses on science, technology, engineering and math (STEM) instruction, developing students' problem-solving skills and enhancing the knowledge and instruction capability of teachers.
Educational Network
World ORT Kadima Mada makes a significant impact in schools in Kfar Hassidim, Hodayot and Yeshiva Abir Yaakov youth villages, in the Levinson and Rabin schools in Kiryat Yam, and in Kfar Silver Youth Village. In these facilities, students from underserved families can improve their academic standing and reach their full potential through innovative teaching methods and inspiring environments.
YOUniversity Centers of Excellence
This after-school program for youth throughout Israel offers educational enrichment in a fun and stimulating environment with hands-on courses in science, technology, engineering, math and other subjects, with robotics a favorite of many participants. Collaborative instruction with industry experts, an emphasis on values, interesting projects and experiments, competitions and reasonable rates make YOUniversity a wonderful opportunity for students of all ages who appreciate its wide possibilities for involvement, learning and leadership.
Vocational Training in the Technological Colleges Network
Vocational training programs for young adults at three technological colleges in Israel is another segment of World ORT Kadima Mada.  In addition to offering a variety of practical engineering study tracks, architecture and computer science, a new study track at colleges in Beersheva, Tel Hai and Shlomi is the natural gas certification program, in which students can obtain skills for careers in Israel's natural gas industry.
Teacher Training
World ORT Kadima Mada fosters pedagogical innovation through the training of teachers, with an emphasis on the long-term educational landscape and addressing national challenges. Within this framework, educators sharpen their skills in development, implementation and evaluation.
Israel – World ORT Kadima Mada
Individualized information, including a listing of World ORT Kadima Mada-affiliated schools, can be found on the World ORT Education Prospectus and on the World ORT website.