ORT Evacuates Families to Western Ukraine
As attacks across Ukraine continue, ORT launched an ambitious mission to evacuate students, teachers, and their families from some of the worst-affected areas. Zaporizhzhia is less than 15 kilometers from the front line. Similarly in Odesa our students and their families are in constant danger. While many thousands of our students have left their home cities in the past eight months, many remain and are seeking shelter.
To date 153 people have been successfully relocated from Zaporizhzhia and Odesa, both home to ORT Schools, to Truskavets, a town in western Ukraine close to Lviv and the Polish border. It is thanks to the ongoing support of our donors worldwide that this vital assistance has been provided.
Mila Finkelshtein, ORT Ukraine Chief Executive, said: "The evacuations were very difficult as in addition to students and teachers, family members evacuated included elderly grandparents and babies. The trip from Zaporizhzhia took almost 20 hours by bus but it is worth it as we've enabled people to sleep, to study, and to work."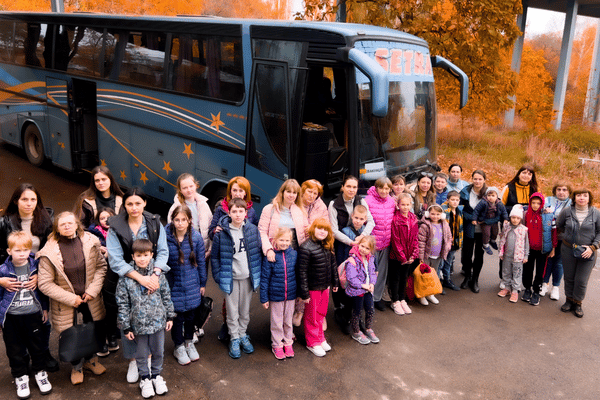 Under the guidance of ORT leaders in Ukraine, suitable accommodations were secured in a Truskavets hotel that provides security and guaranteed heating – a critical commodity as winter approaches. The accommodations enable children to study and parents can work remotely if their jobs allow. It is expected that the ORT group – around 90 percent of whom are from Zaporizhzhia will remain there until the end of the year. Other families had hoped to escape but were unable to leave because some students' parents are doctors and must stay to help. Around a dozen more refugees plan to move to Truskavets shortly.
Mother's Stories
Daria travelled to Truskavets from Odesa with her baby and her son, a sixth grade ORT student.
She said: "The situation in our city has started to worsen. The bombings became more frequent. My husband has lost his job and I am on maternity leave, so we agreed to evacuate and now we are here.
"We had a very warm welcome. The children have amazing conditions to study here. Parents were also provided with all the necessities for a peaceful life – we have meals and live in very good conditions. It is warm in the rooms – we have everything we need. We are very happy to be here and thank everyone who contributed to this effort and helped us."
One mother from Zaporizhzhia said: "We are endlessly grateful to ORT for this evacuation, for allowing the children to sleep peacefully, to smile, to run around. Now in Truskavets children can continue their studies with ORT. We are very thankful and very happy that ORT provided us with this opportunity."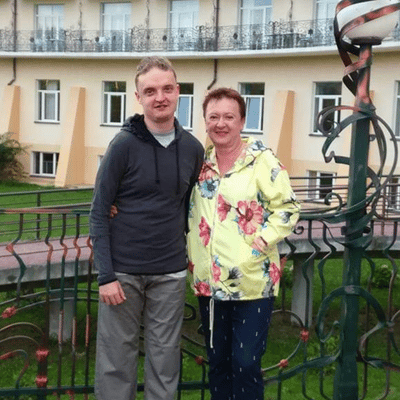 For history teacher Irina, ORT's assistance has been vital as she and her son, Evgeny, relocated to Lithuania from Dnipro following months of conflict that disrupted their lives.
The pair were forced to leave in the summer after sustained rocket attacks began to adversely affect the 28-year-old's cerebral palsy. Irina had worked as a history teacher at Jewish School No 144 in Dnipro since 2008. She chose to stay during the early months of the conflict, but when Eugenijus' health began to deteriorate the pair left.
After fleeing to Vilnius, Irina has been unable to work as she cares full time for Evgeny who is still experiencing panic attacks and severe seizures. Initially they found accommodation thanks to a Lithuanian society dedicated to helping those with disabilities, but they were forced to urgently find longer-term accommodation before winter. There are significant housing shortages in Lithuania, with large numbers of Ukrainians having moved to the country.

Irina was familiar with ORT because of the educational support provided to her school and its affiliation to ORT Ukraine over the past 20 years.
Irina said: "We do not dare return to Dnipro yet as the situation is very difficult – shelling continues, people are dying, and the city has problems with the electricity and water supply. Thanks to ORT's generous funding we have been able to stay in Lithuania. We plan to be here until March at least and look forward to the situation improving back home."
Irina has also been helped by Lithuania's Jewish community, with a regular assistance with food and medicine.
From Kyiv to Brussels
The family of Egor, a student from Kyiv ORT Educational Complex #141, moved to Belgium earlier this year and have been helped by ORT supporters in the country.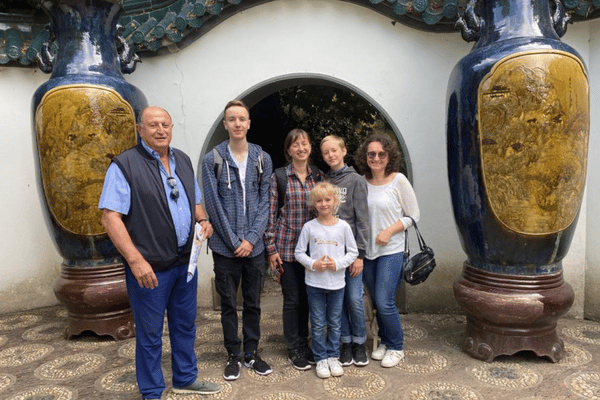 Egor's mother, Alexeev, explained: "What wonderful people ORT introduced us to here in Belgium. Our family received an opportunity for our children to study in prestigious schools in the Belgian capital. They also helped to rent an apartment in Brussels.

"Egor was given a laptop to study at school. These supporters have done everything to make our stay in Belgium more comfortable. In the summer we even spent an unforgettable weekend at the zoo!

"Our family is eternally grateful to the international organization ORT for this colossal help and support."
Ongoing Need
ORT's Ukraine emergency campaign continues to cover a range of needs including security, food and accommodation requirements. Almost $250,000 of funding has already been secured for the Truskavets initiative until the end of the year, with an option to examine extending the contract if required.
With missile attacks intensifying in recent weeks, educational institutions across Ukraine have been forced to either close or switch to online learning. Most ORT schools in the country are currently studying remotely.
As the situation worsens, communication with ORT colleagues in Ukraine has become more difficult. The winter is likely to be a long, challenging time for them with huge uncertainties around most aspects of daily life, with the most critical being sufficient and reliable electricity and heating.
We hope you will continue to support our ORT Ukraine campaign to ensure we can continue to provide for the most pressing needs – both those that are known to us today and those that are unexpected that can arise with little notice in the future.