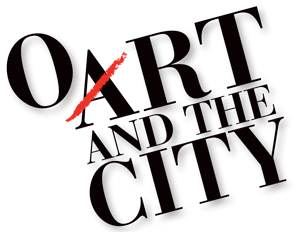 For the fourth year, ORT supporters attended the "ORT and the City" fundraiser to celebrate Detroit, Art, and Culture while promoting ORT's mission of educating for life. Held on May 2nd in Shed 5 at Eastern Market, 400 attendees gathered for an evening of cocktails, strolling dinner served via food trucks, and a silent auction featuring one-of-a-kind works of art designed by emerging and nationally recognized Detroit artists.  Photographers, metal workers, painters, and artists of other mediums, were hand selected and sponsored by local art collectors. The artists were challenged to create an original design from a 30" diameter circle.
Congratulations to participating artists, Leah Cohen, Justin Hamburger, and Ilene Kahan for receiving the 2018 People's Choice Award. Their work was featured on page 11 of the May 17th edition of the Detroit Jewish News.
The auction generated over $21,000, with the event raising over $110,000, which supports ORT's mission of meeting the world's educational needs by enabling over 300,000 students annually to attain successful careers, become community leaders and live independently.
ORT and The City attendees had the opportunity to paint a square in the paint-by-numbers activity had the chance to win the final masterpiece of a pop-art canvas of iconic rock'n roll musician, Bruce Springsteen.
Stephanie Freedman, Deborah Rosenthal, and Julie Rothstein served as the Event Co-Chairs, supported by a diverse Planning and Host Committee.
We look forward to seeing you next year at ORT and The City,
taking place on Wednesday, May 1, 2019
2018 ORT AND THE CITY EVENT SPONSORS