ORT America at 100
The Sill-Perlmuter Family: Connection to ORT is a Family Affair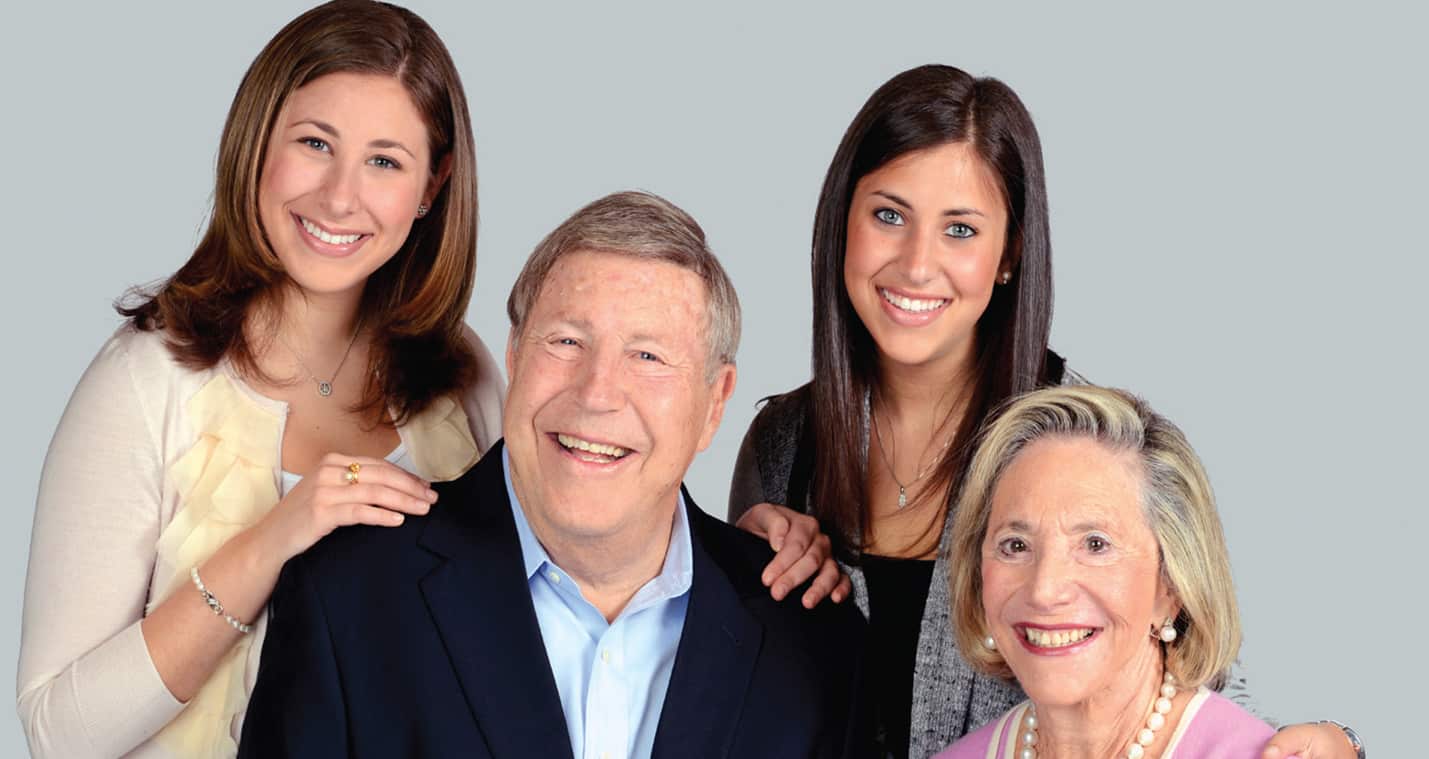 (l to r) Brittany Perlmuter, Robert Sill z"l, Alexis Perlmuter and Eileen Sill
Sometimes connections with ORT are a long and deep family affair. Such is the case with the Sill-Perlmuter family where the entire mishpacha (family) has been involved for decades.
Even before Robert L. (Bob) Sill (z"l) and Eileen Wilkoff got married in 1958, both of their parents were active members of ORT in Cleveland. At the time, there were numerous women's chapters, and Eileen's mom, Jean Wilkoff, was president of her chapter twice. But their involvement really took off 64 years ago when Bob's parents, Sunny and Alex Sill, and Joseph Spivack and his wife, Gladys, went on a mission to Israel and visited an ORT school. Joseph was so enthralled that upon his return home, he created the men's Cleveland Chapter of American ORT. Founding members included Bob and his brother-in-law, Marvin Schermer (married to Bob's sister, Susan), who was its first president.
Bob and Eileen raised their children in the same way they grew up. Eileen remembers her parents were philanthropic and active volunteers in the Jewish community. Thus, tzedakah and activism became a way of life for their family. Eileen became very involved in the Cleveland Federation's Women's Philanthropy Division and eventually became the chair, which was one of her life's greatest joys and accomplishments. She later went on to serve on the National Women's Philanthropy Board, and was thrilled when her daughter, Shari, followed in her footsteps. Shari and Eileen both also chaired the Cleveland Israel Bonds Women's Division.
It was in Cleveland where ORT captured Bob's heart, leading to his increased involvement. Bob served twice as the Chapter President and was honored as ORT Man of the Year in 2000. He later served as the President of American ORT and on the national board for more than 20 years. As president, he represented ORT at the Conference of Major American Jewish Organizations and met many world leaders including Yitzhak Rabin, Ariel Sharon and former Presidents Bill Clinton and George Bush. Eileen and Bob attended the first Hanukkah party at the White House during the Bush administration.
Bob was known for his passion for giving young people an advantage by teaching them a vocation. Throughout his presidencies, he and Eileen traveled across the globe visiting ORT schools and evaluating the impact the organization was making.
At the same time, they were dedicated philanthropists in their hometown and passed this tradition of commitment and enthusiasm l'dor v'dor, from generation to generation. Bob was a mentor to many people in the Cleveland community, encouraging and inspiring them to become involved with ORT, including his son-in-law Michael Perlmuter, who is currently serving as ORT America Ohio Region board president. Michael, in-turn, inspired his nephew, Todd Gurney, to become involved and he is the board's first vice president and a member of ORT America's National Leadership CohORT program.
In addition, Bob and Eileen's nephew, Greg Marcus (son of Eileen's sister Lois z"l and Martin Marcus), is the immediate past president of the board of the Ohio Region. And to add icing on the cake, Bobbi Rosner (Eileen's other sister) was Executive Director in the 1980s and is proud that her son, Matt Rosner, served on the Ohio Board for many years followed by her daughter-in-law, Shawna Rosner, a current board member.
The spirit of Jewish philanthropy has been deeply passed on to Bob and Eileen's children and grandchildren. Shari Perlmuter remembers her parents coming home and telling her and her brother, Scott, stories about their worldwide trips and meetings with international dignitaries, as well as about the work they were doing locally. Scott's memories of charitable giving as a kid were positive and fun – he especially remembers their family's annual summer carnival hosted in their backyard to raise money for muscular dystrophy. Shari recalls that her parents never instructed them about tzedakah. It was just a part of their family life.
Today, the entire family – including Shari and Michael's daughters, Alexis and Brittany, are involved in the Robert and Eileen Sill Family Foundation. Together they support a variety of philanthropic interests and needs of their community. But what is always remembered is the role ORT has played in their family, and how the patriarch, Bob, encouraged so many to become involved. Bob would be pleased to know that his granddaughters are members of ORT's National Leadership CohORT. Additionally, Alexis is engaged to be married to Tomer Hananya, whose father is a graduate of the ORT Syngalowski school in Tel Aviv.
"Bob Sill was both a friend and mentor to me," says Larry Kadis, a Clevelander and former national president of ORT America. "Bob generously gave of his time to improve the lives of others, and his legacy will live on through the students of ORT. His humanity and humility have always inspired me."
In honor of ORT America's 100th Anniversary, ORT Ohio is thrilled to present the 2022 Maimonides Award to the Sill and Perlmuter Families at the Annual Fall Brunch. For over 60 years, they demonstrated commitment and dedication to strengthening Jewish life locally, nationally, and internationally. The family will be honored on Sunday, October 9 at Beechmont Country Club in Cleveland, Ohio.