ORT America at 100
A Family Legacy: Making a Difference Through Education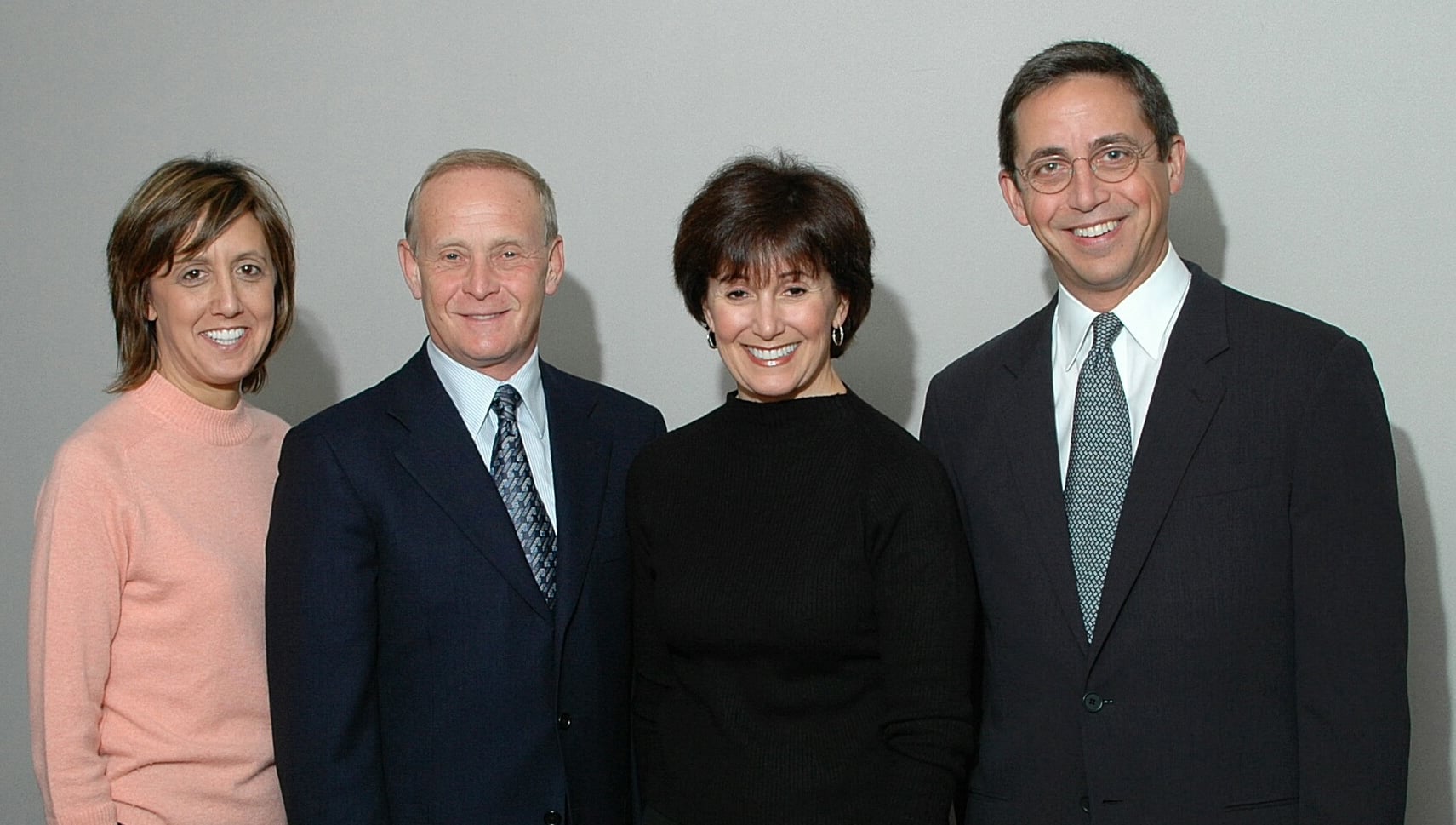 (l to r) Patti Aaron, Larry and Andi Wolfe, and Mark Kahn
The late D. Dan and Betty Kahn were quintessential Detroit philanthropists. Their extensive contribution to Jewish causes was equally matched by their devotion to family and a belief that their children and their children's children had a responsibility to continue the legacy of giving back to the Jewish community at home in Michigan and across the globe. The Kahns were fortunate enough to see the results of teaching their children well during their lifetime. An important example was how their daughter Andi Wolfe – who first became involved with ORT in 1973 – later brought her parents and her sister, Patti Aaron, into the ORT family. Their son, Mark, is also actively involved in philanthropy.
Throughout their upbringing, the Kahn children experienced their parents' generosity toward the Jewish community first-hand, often attending fundraising events where they saw their father building awareness about organizations and raising money for them. Therefore, it made total sense for the next generation to become involved in their own endeavors.
From the earliest days forward, Andi and her husband, Larry Wolfe, have been stalwart ORT supporters, helping accelerate progress for schools across the globe. Andi served as the Michigan Region Financial Secretary and later as Co-President of the region. Today she is a member of ORT America's Board of Directors and serves on its Executive Committee. Larry serves as World ORT's Treasurer and is a member of its Board of Trustees, and ORT America's Board of Directors. Both are active philanthropists in the Detroit Metropolitan Area Jewish community and in the world.
Patti Aaron says that it was Andi who suggested that she attend a Women's American ORT meeting with her for the first time in 1988. ORT's mission instantly resonated with Patti's core values of helping individuals achieve economic self-sufficiency through marketable job skills and education. She also felt that the organization was a natural fit for her energy and professional skills. Toward that end, Patti held numerous leadership positions in ORT both locally and nationally.
In 2001, Patti and the Wolfes facilitated the founding of the Michigan ORT Resource Center (later renamed the David B. Hermelin Resource Center after ORT's leading supporter).
Andi Wolfe remembers her father saying, "While my professional success may have been in the tool industry, if there is one tool that enables an individual to rise above his (or her) circumstances, it is education." This mantra guided him toward many significant endeavors in Israel. One such project was suggested by his children not long after the death of his beloved wife, Betty, which was to create an ORT science center in Kiryat Yam, to serve a struggling immigrant community.
"My father liked the idea of Kiryat Yam becoming a city of science and thought my mom would have liked it, too," explains Andi. "And a generous contribution seemed like a natural fit."
Thanks to the family's lead support, the D. Dan and Betty Kahn STEAM (science, technology, engineering, art, and mathematics) Center at the Rodman Middle School has sophisticated laboratories and equipment and top-notch teachers. As a result, new immigrants in under-resourced communities in Israel are provided with important skills to find success in Israel's science and technology-focused economy.
"Furthermore, when ORT comes into a community by raising the caliber of education, the entire community becomes transformed," adds Patti. "Thanks to our family's seed money, the city has been revitalized."
None of this has gone unnoticed by the next generation. The Kahn, Wolfe and Aaron children are extremely proud to be part of the legacy left by their grandparents. Tikkun Olam is in their blood. D. Dan and Betty surely are smiling down from the great unknown seeing how their children have continued to carry on the family's commitment of giving back to the Jewish community and making the world a better place.