ORT America at 100
Joe Cohen: From ORT Student to National President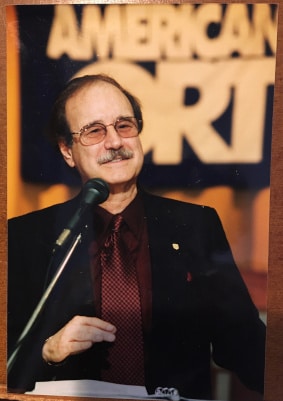 Joe Cohen z"l of Atlanta had a lifelong connection to ORT. As a young man living in Egypt, he was forced to leave the country with his brother 1956 during the Israeli Suez Canal campaign because of his French nationality. Arriving penniless in Paris with no resources or job prospects, Joe and his brother, Maurice, had only cans of food to eat, which they heated with a candle.
After attending synagogue one week, they were invited to a home for a Sabbath meal, where they first heard about ORT and the training programs offered. The brothers attended the ORT school, and Joe became a plumber which was in high demand. The Cohens were most grateful that the school gave them a Kosher meal at school and a meal to take home each night.
Coming full circle in 2004, Cohen was the first ORT student to become the National President of American ORT. Through the years, Joe served American ORT in many capacities. He was first Vice President, Chairman of the Executive Committee, Vice Chairman of the National Campaign Cabinet and National Treasurer and served for many years on the National Board of Directors. Using his expertise as a CPA to benefit ORT internationally, Joe was a member of the Finance Committee of World ORT and a member of its Strategic Alliance Committee. He traveled the globe on behalf of the organization, making friends wherever he went.
As President of American ORT and an 1880 Society member, Cohen led the organization with integrity, distinction and purpose while working closely with Judy Menikoff to ensure that the merger with Women's American ORT would succeed. He developed the "Next Generation" program involving younger members in ORT's mission. He gave back to the organization that gave him a start, repaying ORT in countless ways, most notably with his generosity and leadership.
Joe was the recipient of many honors. In 1997, he was awarded American ORT's "Man of the Year," and he was chosen by the Atlanta Region as their "Man of the Year" in 1998 and 2007. Most fittingly, in 2002, Joe was given the coveted "Yitzhak Rabin Award" for distinguished lifetime service.
Since Joe's passing, his legacy lives on through his wife Phyllis and his family and friends' support of ORT and the Joe Cohen Fund. For over a decade the Joe Cohen ORT Fund has granted numerous scholarships and funded several major renovations throughout ORT's network of schools. In Israel, the dining hall and outer lobby at Hodayot is named for him, and soon the renovated synagogue at Kfar Silver will also bear his name.
Click here to learn more about Joe Cohen z"l and how you can help continue Joe's dedicated support of ORT.