An ORT America Mission Celebrating Our Centennial Year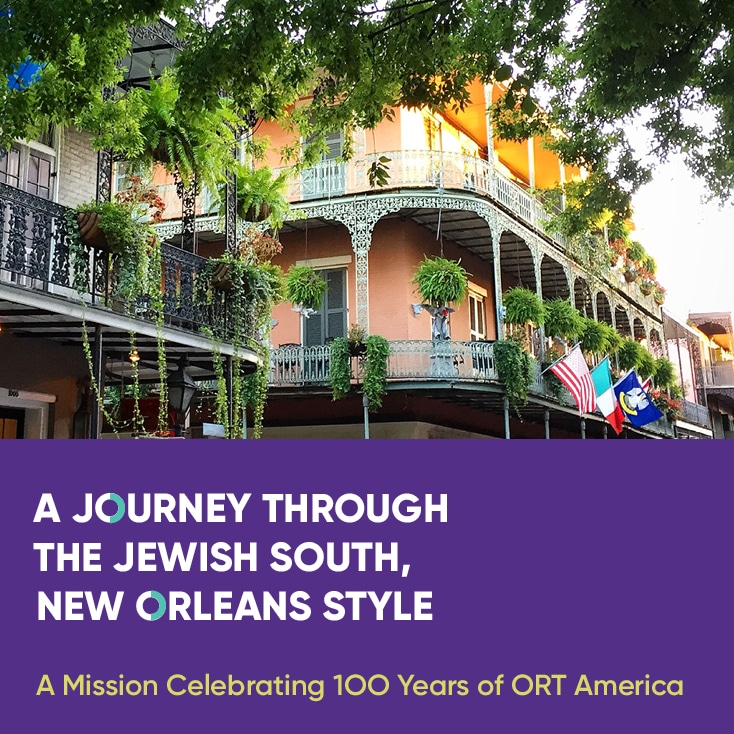 Our Mission to New Orleans celebrating our centennial was a top-notch experience that left participants ready for more. The group was made up of dedicated national and regional leaders from Chicago, Detroit, Atlanta, New York and Chattanooga.
"Traveling to New Orleans with ORT America leadership was rewarding and inspiring.  Since my family are Southern Jews and my grandmother, of blessed  memory, was born just up the Mississippi from New Orleans, to visit the Museum of the Southern Jewish Experience painted a picture of what it was like for my family and thousands of other Southern Jews settling in the South," said Austin Center, National ORT America Board member. Austin and his mother, Marilyn Center, from Chattanooga both participated in the mission.
The Mission kicked off with a tour of the National World War II Museum, where participants reflected on ORT's history. ORT provided training at DP camps in Europe enabling survivors to build new lives with much support from American donors after the devastation of European Jewry.
Later a welcome dinner and lively discussion with lay and professional leaders of the local Jewish Federation following a tour of Sazerac House, a blend of museum, bar, and distillery, touted as "an immersive exploration of the spirited culture of New Orleans."
Other stops on the itinerary included an engaging tour of the Museum of the Southern Jewish Experience that provided an appreciation of the impact that Jews from this region had on their communities.
A meaningful visit to the Whitney Plantation illustrated the tragic history of slavery. "The visit to the Whitney Plantation, where we received an education of what life was like for slaves had a profound effect on all of us that reinstalled the reason why we as Jews and especially our work with ORT matters so that we can make the world a better place for all communities," added Mr. Center.
While enjoying learning about diverse and interesting topics, the group got a taste of the south with lunch at Kosher Cajun plus stops at the beautiful Sculpture Garden and the Touro Synagogue, one of the oldest active synagogues in the U.S.  Last stop was the Tulane Hillel, the group met with the Assistant Director, Gary Brandt who shared his impressions of many young adults he works with on what it is like to be a Jewish student on campus in New Orleans.
I was greatly enriched by ORT's recent New Orleans Style journey through the Jewish South. I've been to New Orleans many times, but this trip provided me with new perspectives.  Through our interactions with Federation leaders, I increased my awareness of a viable network and new partnership possibilities. As we visited sites such as the Whitney Plantation and the Museum of Southern Jewish Experience, I learned how difficult histories continue to impact our current lives, including a commitment to social action. Through our tour of the Touro synagogue, I realized the many ways in which the dynamic Jewish community contributes to Nola's vibrancy and resilience. I envision many opportunities for continued conversation and partnership and look forward to other missions around the U.S. using ORT's Pillars of Education for Life, Global Citizenship and Jewish Experience as a guide.
Dr. Louanne Smolin, member of ORT America Board of Directors