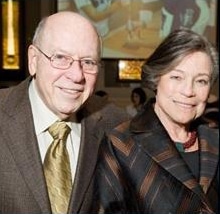 Bob Mazer, Claire Mazer
We are saddened to inform you of the passing of our longtime beloved friend, colleague, and former board member of Women's American ORT, Claire Mazer, on Monday, August 22, 2016.
Claire joined Women's America ORT in 1957, becoming a staunch advocate for our educational initiatives.  An active leader in the Lake County Region and in the Chicago ORT Technical Institute, Claire served on the national board of Women's American ORT and was a driving force in the development of ORT as a significant fundraising organization.  She also served on the board of directors of World ORT.
Always leading by example, over the years Claire and her husband Bob were notable major gift contributors to ORT, becoming lifetime members of the World ORT 1880 Society with a gift of $1 million.
As a result of the involvement of Claire and Bob with the International Fellowship of Christians and Jews and her friendship with Rabbi Yechiel Eckstein, ORT has been the recipient of millions of dollars in funding for its educational activities in the former Soviet Union, enabling ORT programs to survive and thrive during in challenging times; and the ORT Chicago region office is proudly named in their honor.
The legacy of Claire and her beloved husband Bob can be seen in the many lives they touched and transformed because of their dedication to ORT.  Students across the ORT global network – in Israel, South America, the former Soviet Union, and the United States – have all benefited from Claire's efforts and generosity.
Claire's leadership and passion for mentoring young leaders will continue to resonate for years to come, and we are grateful for her important work.  Shelley Fagel, Past President of ORT America, said, "Claire was my mentor – my touchstone.  She took me under her wing and taught me so many things.  She showed me in her words and actions, how to be a contributor – both monetarily and by participation.  I will be eternally grateful for her kindness and her love."
Many among the leadership of ORT America and other major ORT donors attribute their commitment to the ORT mission to Claire's continued mentorship and guidance.  May her memory be a blessing and may her legacy continue to inspire others.
The family has requested that contributions in Claire's memory be made to ORT America.  If you wish to make a contribution please contact The Claire and Bob Mazer Family Metropolitan Chicago Region Office at 3701 Commercial Avenue, Suite 13, Northbrook, IL  60062; 847-291-0475; chicago@ortamerica.org or click here  to make an online donation.