Mission to Israel &
World ORT General Assembly
A First-hand Global ORT Experience
May 11 – May 18, 2022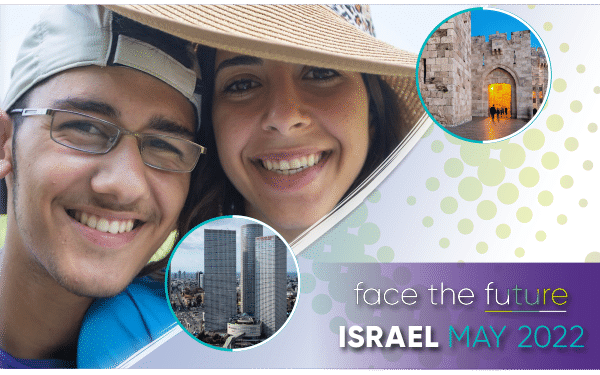 We hope you will join us for this unique opportunity to experience ORT in action with an international group of ORT supporters.
See our projects, meet our students, and discuss the future of education first-hand. After two years of travel obstacles, we are excited to bring the ORT family back together in person for this special experience, so long as international travel guidelines allow us to do so.
Program highlights:
Jerusalem: Wednesday, May 11 – Saturday night (Motzei Shabbat), May 14
Join us in Jerusalem for an opening dinner on Wednesday evening. Additional programming in Jerusalem (subject to covid requirements) will include a scenic overlook of the city, neighborhood walking tours, museum visits, special guest speakers, Shabbat meals, and havdalah ceremony.  A special engagement with students and instructors from the YOUniversity East Jerusalem program is planned for Thursday afternoon. Transfer from Jerusalem to Tel Aviv will be provided on Saturday evening May 15th, to join the ORT General Assembly (May 15-17).
World ORT 2022 General Assembly, Saturday, May 14 – Wednesday, May 18
Be inspired by ORT students and meet global education experts during ORT's three-day General Assembly, including visits to our flagship Kfar Silver Youth Village to see the capital improvements and enjoy a Lag B'Omer Celebration, and to Kiryat Yam, including the new D. Dan and Betty Kahn STEAM Center and our YOUniversity enrichment programs. 
Click here for costs and to register
For more information please contact Missions@ortamerica.org or Allison Halpern, Director of Operations, at (212) 547-9124.
For non-US travelers participating in the World ORT General Assembly, please contact Niamh Cordeiro, World ORT Head of Governing Bodies Liaison Unit.
Please register today to reserve your spot. A $500 deposit is due at the time of registration.
Please contact the Missions department at 212-547-9124 or by email at missions@ortamerica.org for payment arrangements.
Payments by check can be mailed to:
ORT America Missions
75 Maiden Lane, 10th Floor
New York, NY 10038