World ORT Kadima Mada (WOKM), World ORT's operating arm in Israel, has an important role to play in the response to the terrorist attacks by Hamas on October 7.
Families are experiencing acute trauma and thousands have been displaced and are living in evacuation centers. Students and teachers need psychological support, educators need special training to engage with students experiencing loss and anxiety.
WOKM is providing critical mental health services and educational resources to deliver support and education during this unprecedented time, as well as providing for the safety and security of Kfar Silver Youth Village, just 8 miles from the Gaza border.
World ORT quickly mobilized to respond to these critical needs in Israel and are delivering much needed support to thousands of Israelis.
Mental Health Support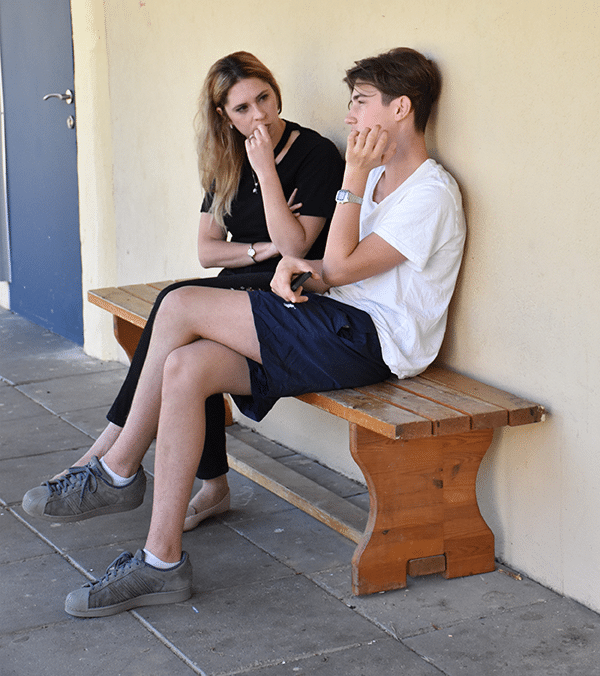 The need for psychological support is unprecedented. Israelis are almost universally traumatized – both by the attacks of October 7th and the persistent fear of violence.  Many are also experiencing sadness, confusion, anxiety, and difficulty focusing and sleeping. Our students and staff in Israel need mental health support to help them cope and manage their daily lives. We have:
Evaluated and documented the mental health and emotional needs of all our students and teachers
Connected teachers with all Kfar Silver students and provided those who have greater need with one-on-one support from our counselors, social workers, and psychologists.
Staff members have access to psychologists for one-on-one and group sessions
We are facilitating sessions for staff and teachers, both at Kfar Silver and across the country, to discuss coping methods and how to operate in times of stress and uncertainty.
Educational Outreach, Distance Learning Services, and Teacher Training
World ORT Kadima Mada is helping schools prepare for an extended period of distance learning by providing laptops, tablets, and teacher training.  Of Kfar Silver's 1,100 students, 50% have had to evacuate, leaving their homes with almost nothing, including without laptops or tablets. ORT is extending its educational resources to students throughout the country who have been displaced from their homes.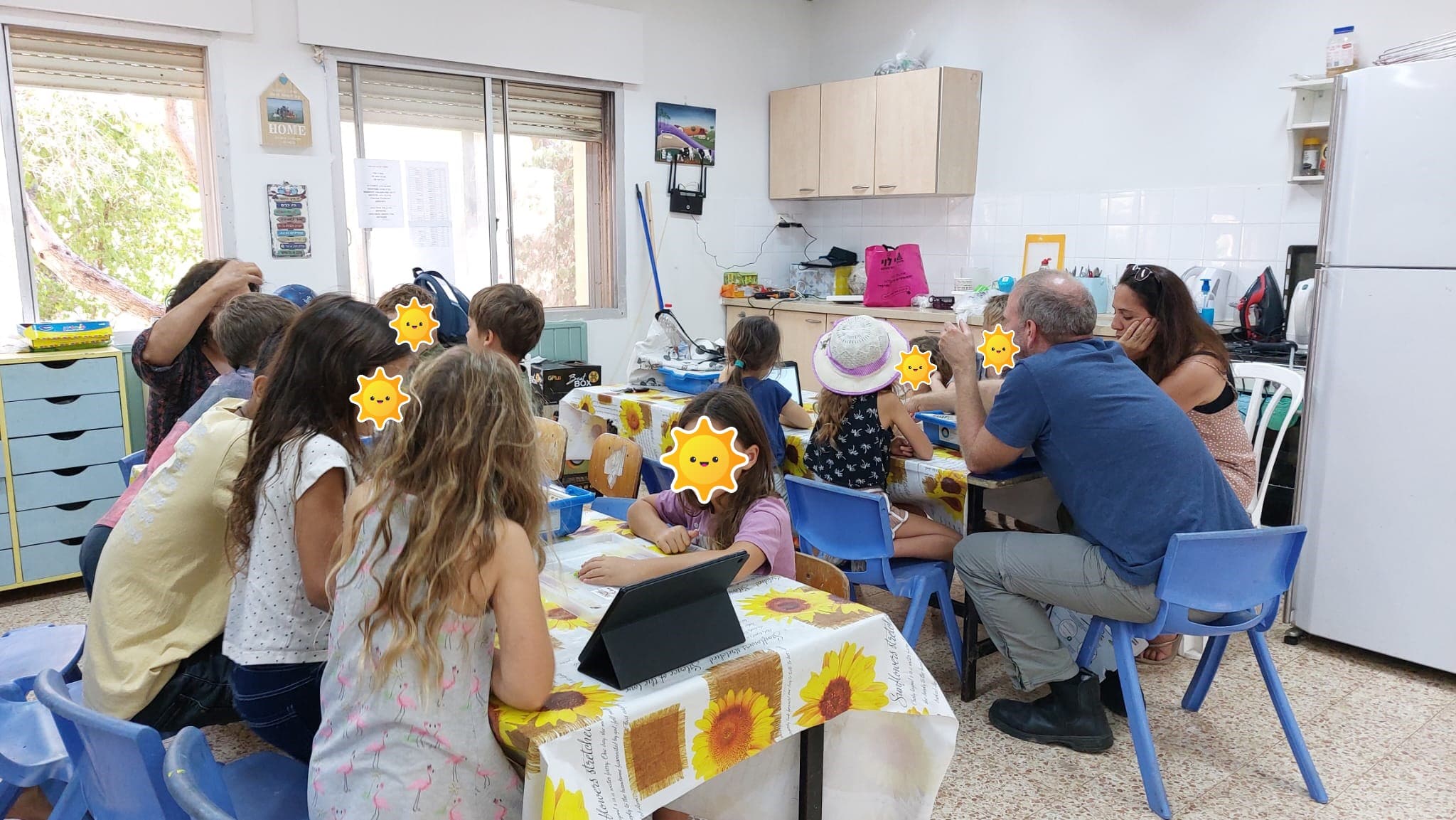 Teachers are on the front lines with children and must be able to help them manage their anxiety and cope with their current situation.
Teachers are receiving personalized support and training to be able to work in times of uncertainty
Professional development is being provided for educators learn to handle trauma events so they can be prepared to answer students' questions and support them in processing the impact of war
Training is being given to all our teachers and instructors on how to facilitate stress-alleviating activities to reduce anxiety and increase resilience.
Community Outreach and Engagement
World ORT Kadima Mada is offering in-person and online stress relief and educational activities for students across Israel in grades 1-8 and facilitating programming at evacuation centers in Dimona, Tiberias, and at Rambam Hospital in Haifa.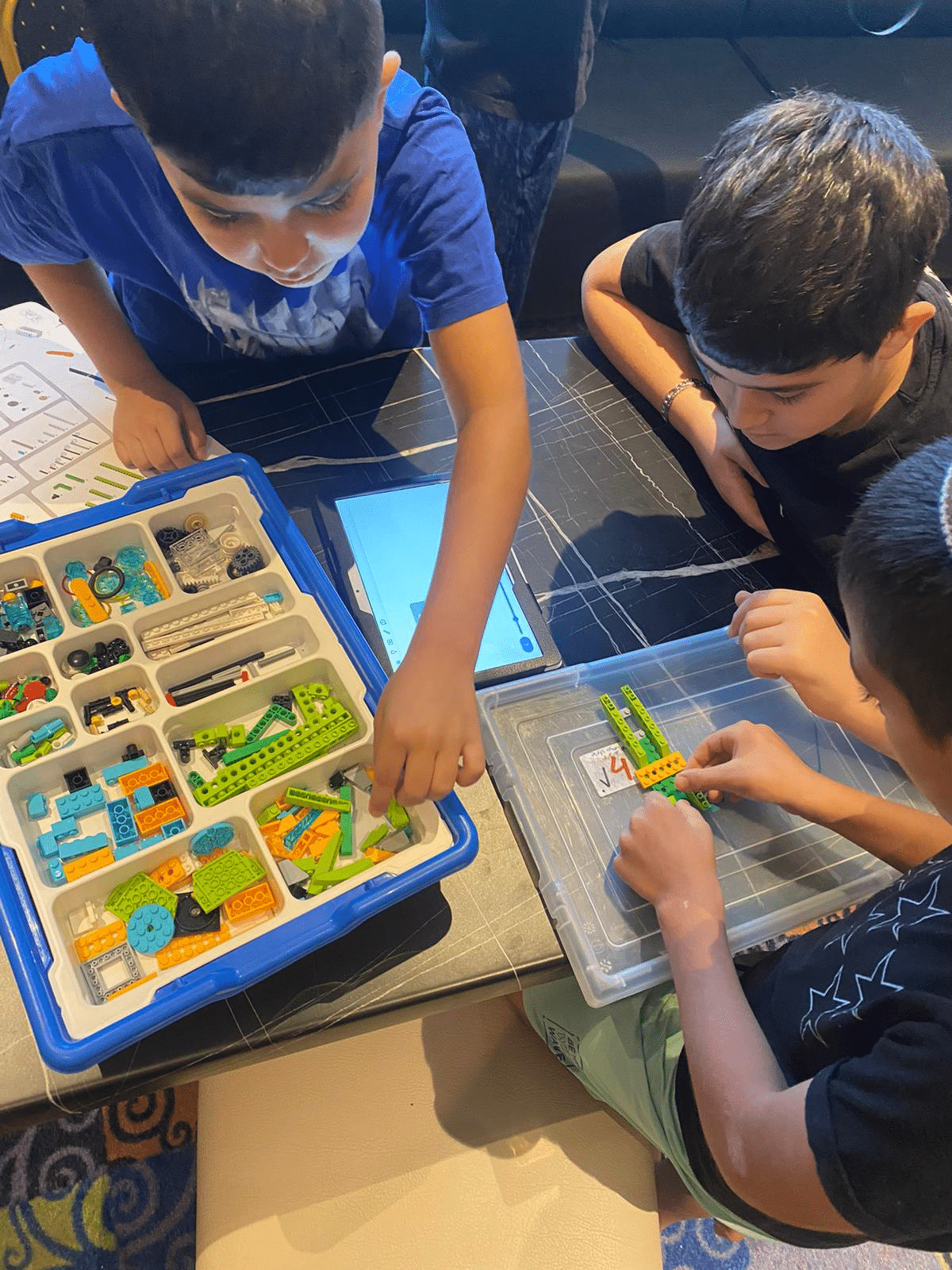 We are offering online workshops in subjects such as science, DIY, robotics, coding, VR to first through eighth graders across the country. Our staff are teaching in 14 schools across seven cities and to date we have facilitated 65 workshops that have engaged approximately 2,000 children.
We are reaching out to centers and hotels housing evacuees to offer in-person activities:
20 workshops for 35 children ages 4-12 since Sunday, October 15th, for evacuees from the south now in Dimona.
STEAM workshops for the children of first responders and essential hospital workers at Rambam Hospital in Haifa
Daily Robotics and DIY workshops for 40 6-12-year-old evacuees from Mateh Asher (North) at the Shavei Zion Evacuee Center.
Daily workshops for 40 elementary school children in Ein Hamifratz and Ness Harim Evacuee Centers for evacuees from the North.
Support for Students and Staff Directly Impacted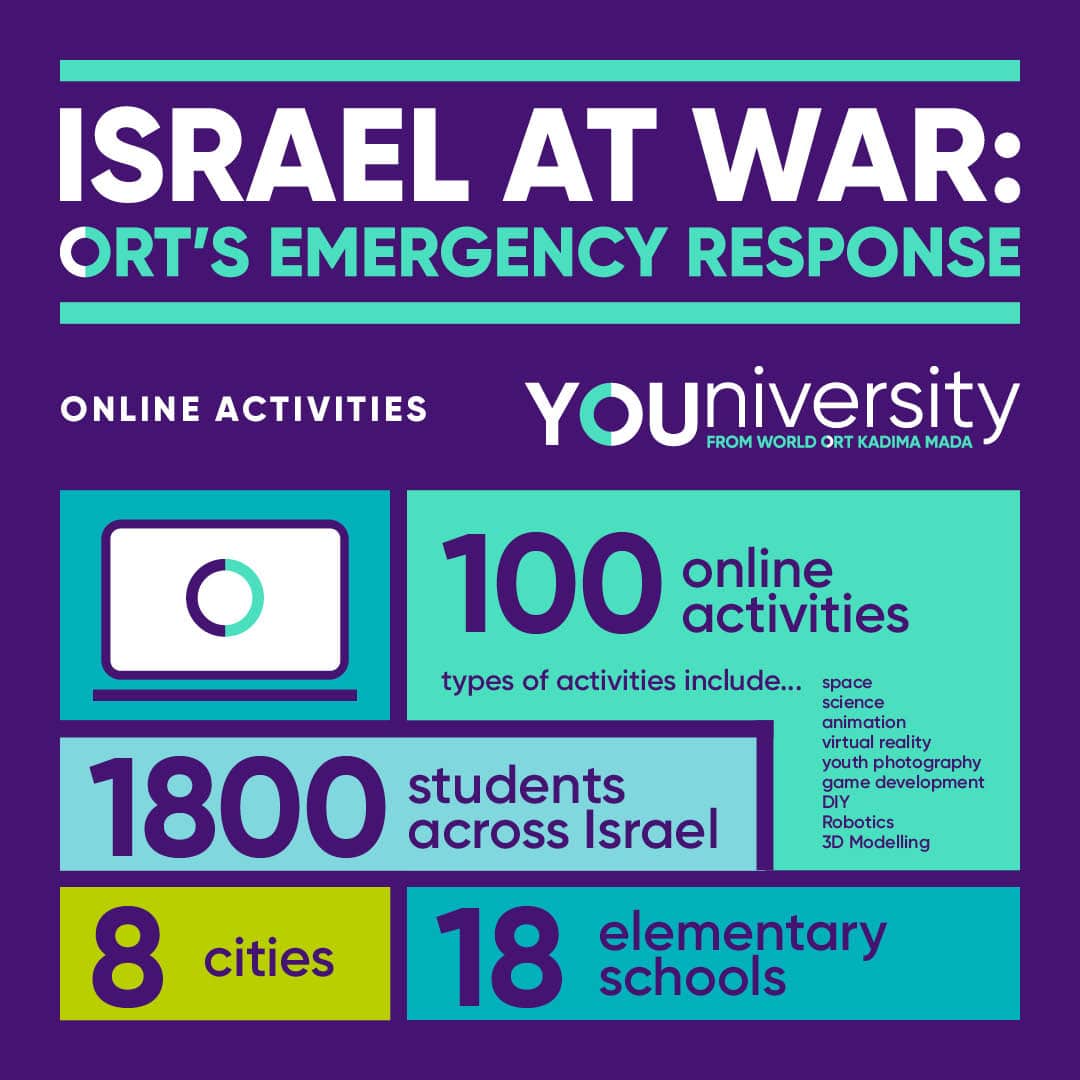 ORT is providing aid to its students and staff directly impacted due to the loss of a family member, a parent who is currently serving in the IDF, or having had to evacuate their home. We now know of 40 students and staff of ORT programs who are currently in this devastating situation. We are providing them with financial support to address their immediate needs.
Transportation
In the event that we need to further relocate our staff and students from dangerous areas, funds will be needed for school buses and transportation expenses. Unfortunately, we anticipate that this need will arise, though it is impossible to predict when that need will arise and how extensive it will be.
Safety and Security at Kfar Silver Youth Village
There is a critical need for increased security in the Village to make everyone feel safe when they return. The short-term needs include safety equipment, reinforced security fencing, cameras, and additional lighting.
Equipment for the Emergency Team including helmets, binoculars (day and night vision), protective clothing, flashlights, torches, generator, radios and training
Perimeter Fence, PA/Alarm System, and Lighting including restoring the border fence around the Village, adding lighting and cameras with motion sensors at critical points, and 50 light poles
Closed Circuit TV and Professional Security at the Main Gate
In 75 years, there hasn't been a time of such great need in Israel. We are called upon to support our brothers and sisters in Israel as never before to ensure a strong Israel for the future. With the support of our many donors, we will let Israel know they are not alone during their darkest hours.