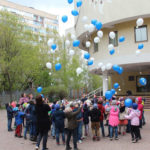 ORT brings ecology to education – see more on our mission.  The concept of separating rubbish for collection according to the properties of the trash is being taught to about 400 students in 8th-11th grades in the Moscow ORT Technology School Gymnasia # 1540. This is a joint project with the non-governmental organization Centre of Economy Resources, whose volunteers provide lessons and instructional games on the sorting and recycling of garbage, and an exhibition on this theme is ongoing this month.  The project includes:
ŸA game called green entrepreneur, in which students are encouraged to develop a strategy of cooperation with the planet and its resources and not become exploiters;
ŸDebate, in which students get familiar with different arguments on an issue like climate change and learn to reason, listen and think logically and critically; and
ŸA laboratory lesson called ecological monitoring, in which students learn how scientists determine the state of the environment and they conduct experiments with various instruments to investigate water, air, soil and plants.
As a comprehensive school project, the rubbish separation instruction included theory in geography and biology courses, with special biology tutorials conducted by volunteers from the Centre.  Containers to separate rubbish were placed in the school building for middle to senior grades, and they will remain on premises for several months in an all-Russia action called The Year of Ecology.  This pilot project will be implemented in other schools and in two ORT buildings for junior and senior grades, with about 785 students participating.
Register for our Mission to Russia today!