Join the Conversation as ORT Explores the Future of Education
Wednesday, May 20, 12 – 1 PM EST
Please join us for an informative discussion featuring Randi Weingarten on the future of education in a post COVID-19 climate.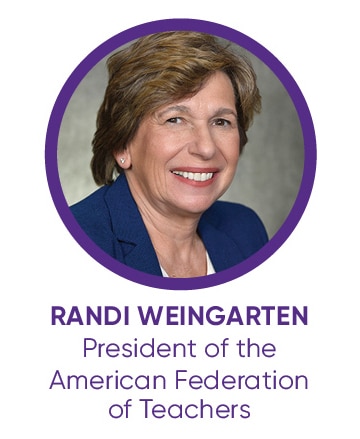 Randi Weingarten is an American labor leader, attorney, and educator. She is currently president of the 1.7 million-member American Federation of Teachers, AFL-CIO. Prior to her election as AFT president, Weingarten served for 12 years as president of the United Federation of Teachers. In 2012-13, Weingarten served on an education reform commission convened by New York Gov. Andrew Cuomo, which made a series of recommendations to improve teaching and learning. Weingarten holds degrees from Cornell University's School of Industrial and Labor Relations and the Cardozo School of Law. Weingarten resides in New York City and in Washington, D.C.
Barbara Birch comes to ORT America after serving in her role as Vice President of Development at the Shalom Hartman Institute of North America, where she managed strategic planning, fundraising and business development. Barbara's work for the Institute focused on managing relationships with lay leadership and connecting constituents to the organization's mission to create a culture of giving. Barbara received her BA from Binghamton University where she was a member of Phi Beta Kappa, and an MBA from Hofstra University. Previously she held a number of leadership roles in development at Yeshiva University, including Assistant Vice President for Alumni Affairs and Annual Giving, and was the Director of Alumni Affairs at the Benjamin N. Cardozo School of Law.
How will this critical moment in this time shape the future of education? What are some of the impediments that we need to overcome here in the U.S. and throughout the world as schools prepare to return to the classroom?
Join the webinar to address these questions and more.