Back to School?
Exploring the realities and opportunities in today's COVID world

Wednesday, September 9, 2020
12:00 – 1:00 pm EST
Parents and children are setting their sights high for today and tomorrow. Our panelists will bring perspectives from North America, South America and ORT's global network to consider lessons learned from teaching during a pandemic and reflect on what the future holds post-pandemic. Discussion will address opportunities to advance education through blended learning and teaching global citizenship.
Hear from our expert panel: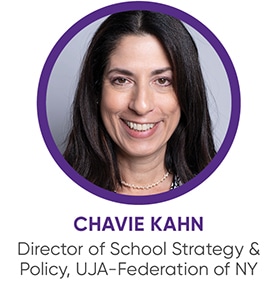 ---
Chavie N. Kahn is Director of School Strategy and Policy at UJA-Federation of New York. Chavie led UJA-Federation's Day School Challenge Fund initiative, working with NY day schools and yeshivas to generate over $84M in new endowment dollars. Through strategic initiatives to help schools respond to the pandemic, capacity building, and building external relationships with school leadership, funders, and stakeholders, Chavie works to strengthen the over 200 NY day schools and yeshivas for today and tomorrow. Chavie is a former litigator at Fried, Frank, Harris, Shriver & Jacobson, and at Prudential Securities. She is active in her community and has served on non-profit boards, including the executive boards of Manhattan Day School and American Friends of Nishmat. A graduate of Washington University in St. Louis, Chavie received her JD from Cardozo Law School.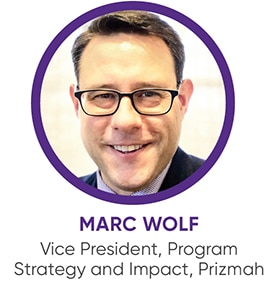 ---
As Vice President, Program Strategy and Impact, Marc Wolf is responsible for overall program development and evaluation, knowledge management and internal program learning, and relationship-building with field leaders. Previously Marc served as Vice President, East Coast at Shalom Hartman Institute of North America and held several major leadership roles at the Jewish Theological Seminary, including Vice Chancellor, Director of Community Engagement and Chief Development Officer. Marc is a day school parent and passionate advocate for day schools and has dedicated his career to the importance of Jewish Education. He serves on the board of the Play Group Theatre, a children's theater company in White Plains, New York where he lives with his wife, Rebecca Boim Wolf, and their three children.
---
Gina Abadi is the Director of the ORT Isaac Rabin School in Panamá. She has been part of the school's community since the school was founded in 2000, serving in a number of roles including school psychologist; director of institutional management; parent representative; and liaison with the Jewish community. For the last two years she provided the general direction for the school.
Gina has a degree in psychology and a postgraduate degree in Management and Supervision of Schools. She is certified and in compliance with the requirements of the IBO Organization.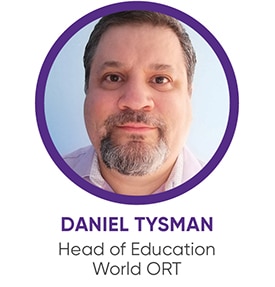 ---
Daniel Tysman joined World ORT after working as a teacher and manager of high school Science education for 12 years. He has led World ORT's Education Department at the Head Office in London, UK since 2009. The role involves management of international programs for ORT's network of schools and colleges around the world, supporting them in adapting to changing educational landscapes.
Moderator
---
Barbara Birch comes to ORT America after serving in her role as Vice President of Development at the Shalom Hartman Institute of North America, where she managed strategic planning, fundraising and business development. Barbara's work for the Institute focused on managing relationships with lay leadership and connecting constituents to the organization's mission to create a culture of giving. Barbara received her BA from Binghamton University where she was a member of Phi Beta Kappa, and an MBA from Hofstra University. Previously she held a number of leadership roles in development at Yeshiva University, including Assistant Vice President for Alumni Affairs and Annual Giving, and was the Director of Alumni Affairs at the Benjamin N. Cardozo School of Law.