ORT Florida Ben-Gurion Virtual Tour
When:
November 17, 2020 @ 11:00 AM – 12:00 PM
2020-11-17T11:00:00-06:00
2020-11-17T12:00:00-06:00
Cost:
$25 per person. Sponsorship levels are available and all include admission
Contact:
Robin Isaacson
561-997-1073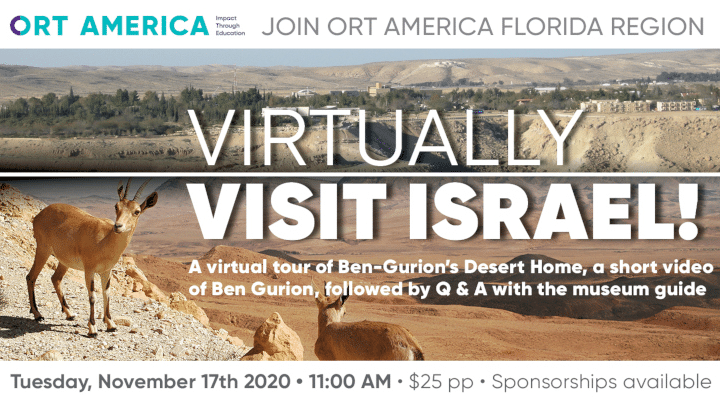 Stay at home and zoom in to the Negev with ORT America!
Learn how Ben Gurion envisioned making the dessert bloom just as ORT makes it possible for our students to bloom!
The virtual tour of Ben-Gurion's Desert Home is a unique opportunity for an intimate and exclusive visit in the home of the first prime minister of Israel who declared the independence of the State of Israel, established the I.D.F and built the foundations of Israel and the connections between Israel and world Jewry. During this unusual period which keeps you at home, join us for an opportunity to hop over the ropes of the museum and show you hidden places never seen on a 'regular' visit.
Included is a short video of Ben Gurion, the virtual tour, followed by Q & A with the museum guide
$25 per person and Sponsorships available
For more information please call 561-997-1073 or email Risaacson@ortamerica.org