Detroit Jewish News, From Dimona to Detroit: RoboActive #2096 Receives the International Engineering Award

Israel sent a delegation of 650 participants to the FIRST Robotics Competition at Cobo Center in Detroit from April 24-27.
Among them were 27 World ORT students from Dimona, known as RoboActive #2096. The team received the International Engineering Award, given to only three teams worldwide, honoring their achievements in science and technology, and for their ability to inspire young people to pursue STEM. They also won the Nicest Pit Award.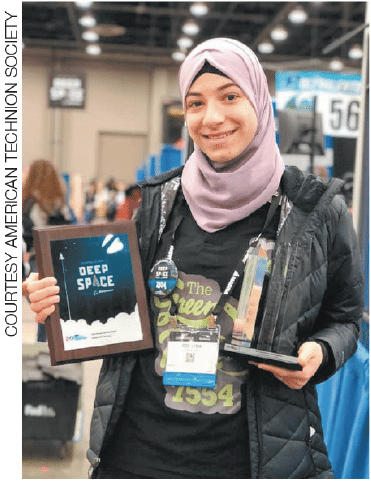 Dimona, a small desert town in southern Israel, has been so impacted by World ORT's Kadima Mada (Science Journey) STEM program that it is now considered a robotics capital. FIRST Robotics
Competition teams are active in 100 percent of Dimona schools, including special education and kindergarten robotics programs.
Out of 14 Israeli teams, RoboActive #2096 was among five to win awards in Detroit.
Another was Team Green Rockets from Kfar Yafia, a team from the Technion-Israel Institute of Technology in Haifa. The team won the Rookie All-Star Award, given to a first-time team that shows exceptional effort in helping fellow competitors learn about science and technology.
The team is one of many spearheaded by Technion Professor Alon Wolf, who heads the Technion program. Six Israeli participants in this year's international competition received scholarships from the Technion.