Carol Linch Carpentry and Welding Center Dedication
Kfar Silver, Israel
On Wednesday, July 26, 2023, three Linch brothers, Mark, Steven, and Keith, along with members of their family, spent a day at Kfar Silver Youth Village to dedicate the Carpentry and Welding in honor of their mother, Carol Linch z"l. The Linch family also dedicated a new art space in the historic water tower at the Village.
Following a tour of the Village, Amos Gofer, Kfar Silver Youth Village CEO, welcomed the family to the newly renovated space and spoke about the importance of having this workshop for the students. A student spoke about how meaningful the center is to him including learning new practical skills and how it is making a difference in his progress at school.

Mark Linch spoke of his mother, Carol, who was a teacher and a long-time supporter of ORT. He said she would have been pleased to be remembered for this workshop and to be part of the daily life at Kfar Silver. He looks forward to hearing about the students' successes in the future.

Steven Linch recalled that education was very important to both his mother and father and Keith Linch, an ORT America Board member, shared that he felt honored to be part of the noble cause of ORT at this dedication ceremony on behalf of his mother. He also thanked Barbara Birch, Allison Halpern, and everyone at ORT America who made this day possible.
The ceremony continued with the unveiling of the plaque and concluded with attaching a mezuzah to the entry of the workshop building.
Carol Linch's involvement began at a Women's American ORT (WAO) meeting at a home in Chicago, where she heard about the impact of ORT's educational programs. Her interest and involvement grew from there. Carol's leadership in WAO and World ORT included her service as WAO National President for which she was known as a dedicated, thoughtful, and accomplished leader.
Carol and her beloved husband Earl were Lifetime Members of ORT, Guardians, and members of the de Gunzburg Society. They visited ORT's programs around the world and modeled ORT's values of giving to others through their generous financial support.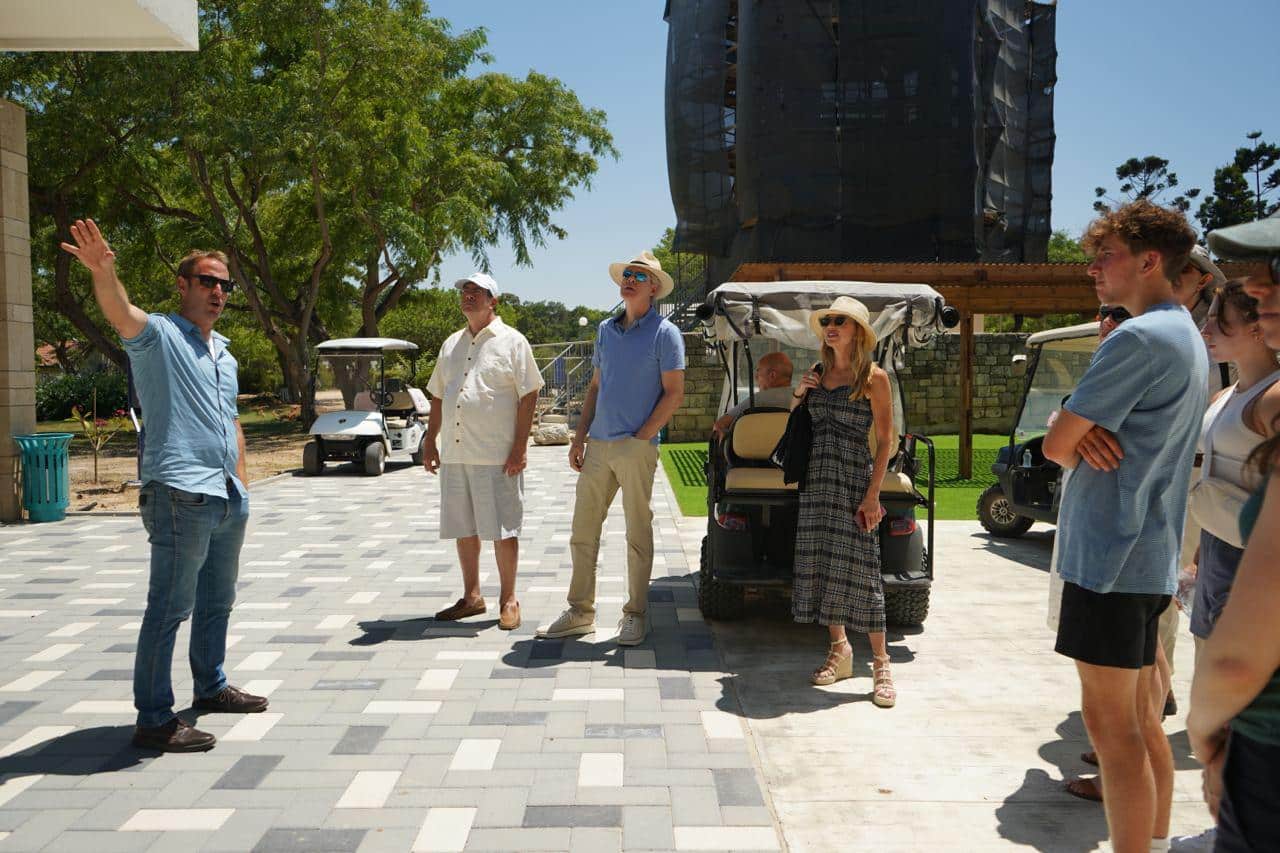 Amos giving a tour to the Linch family.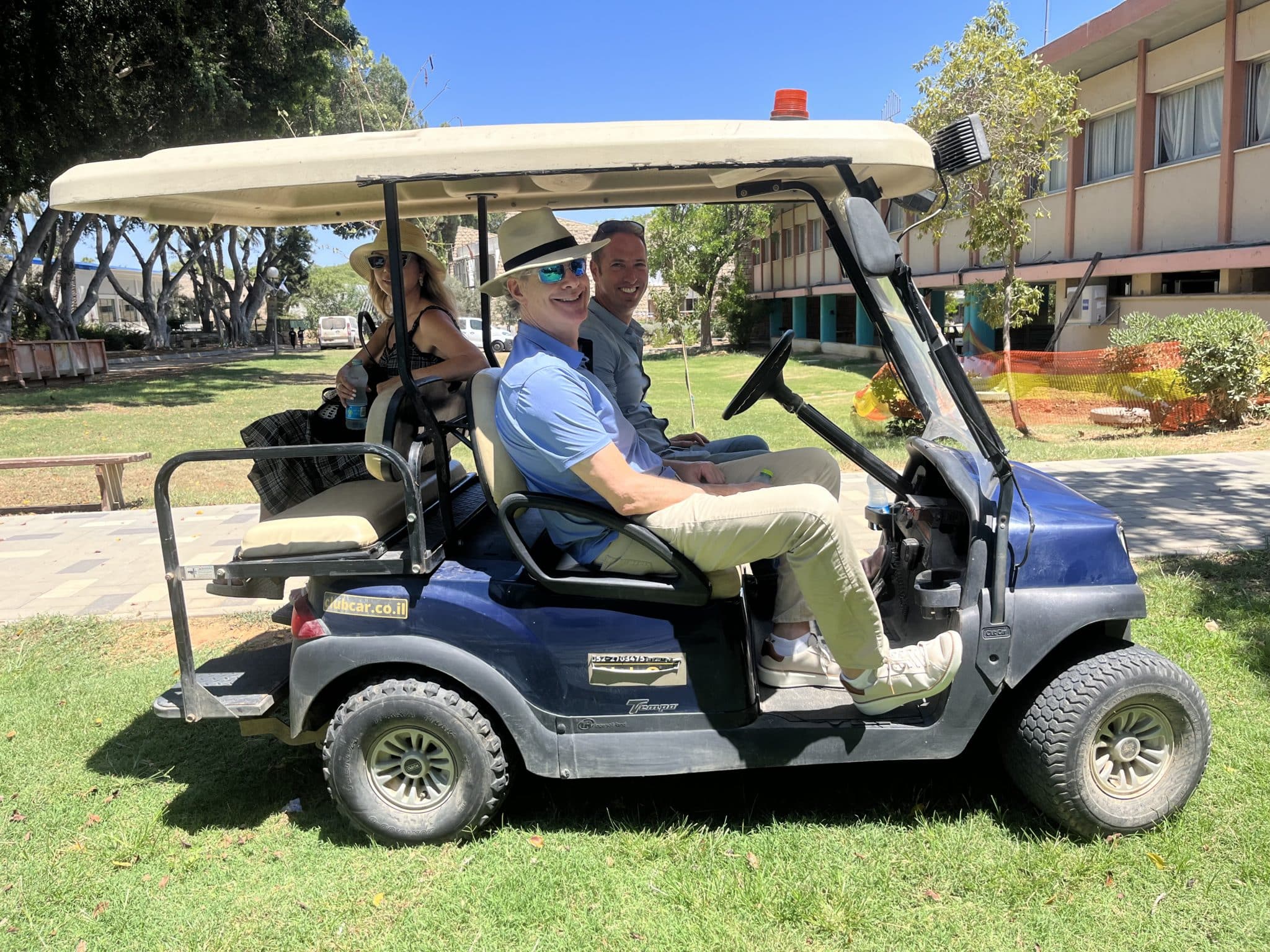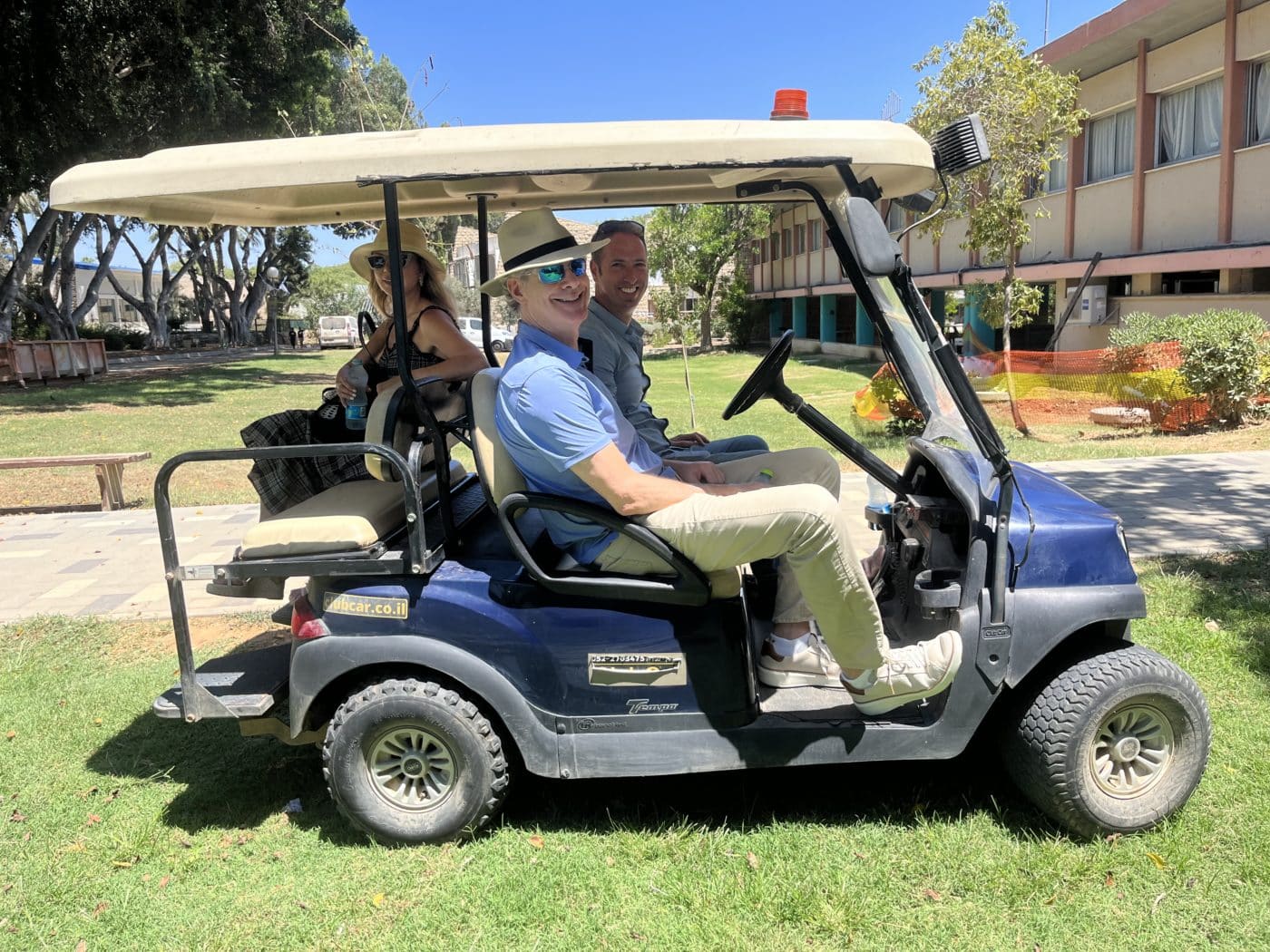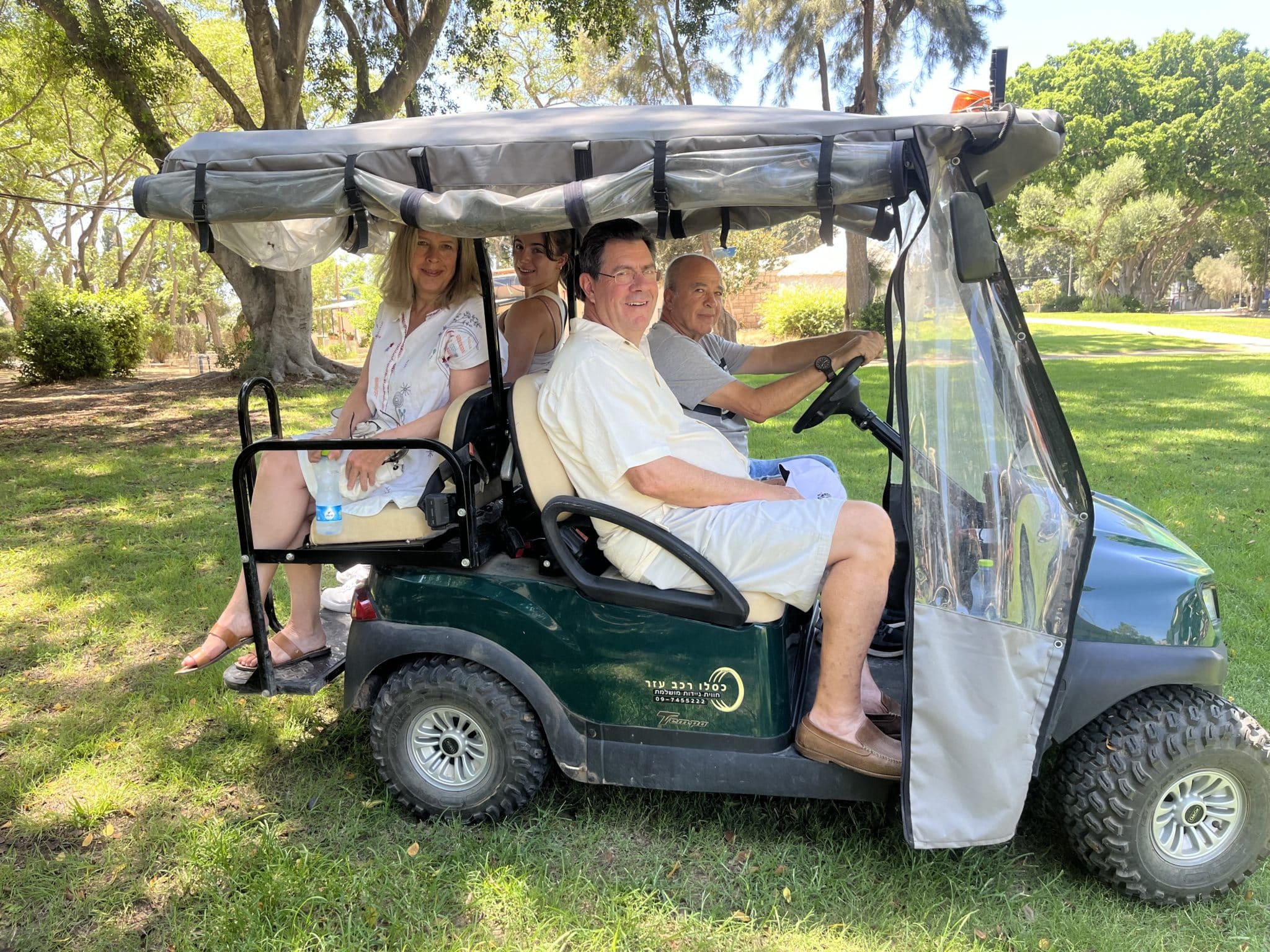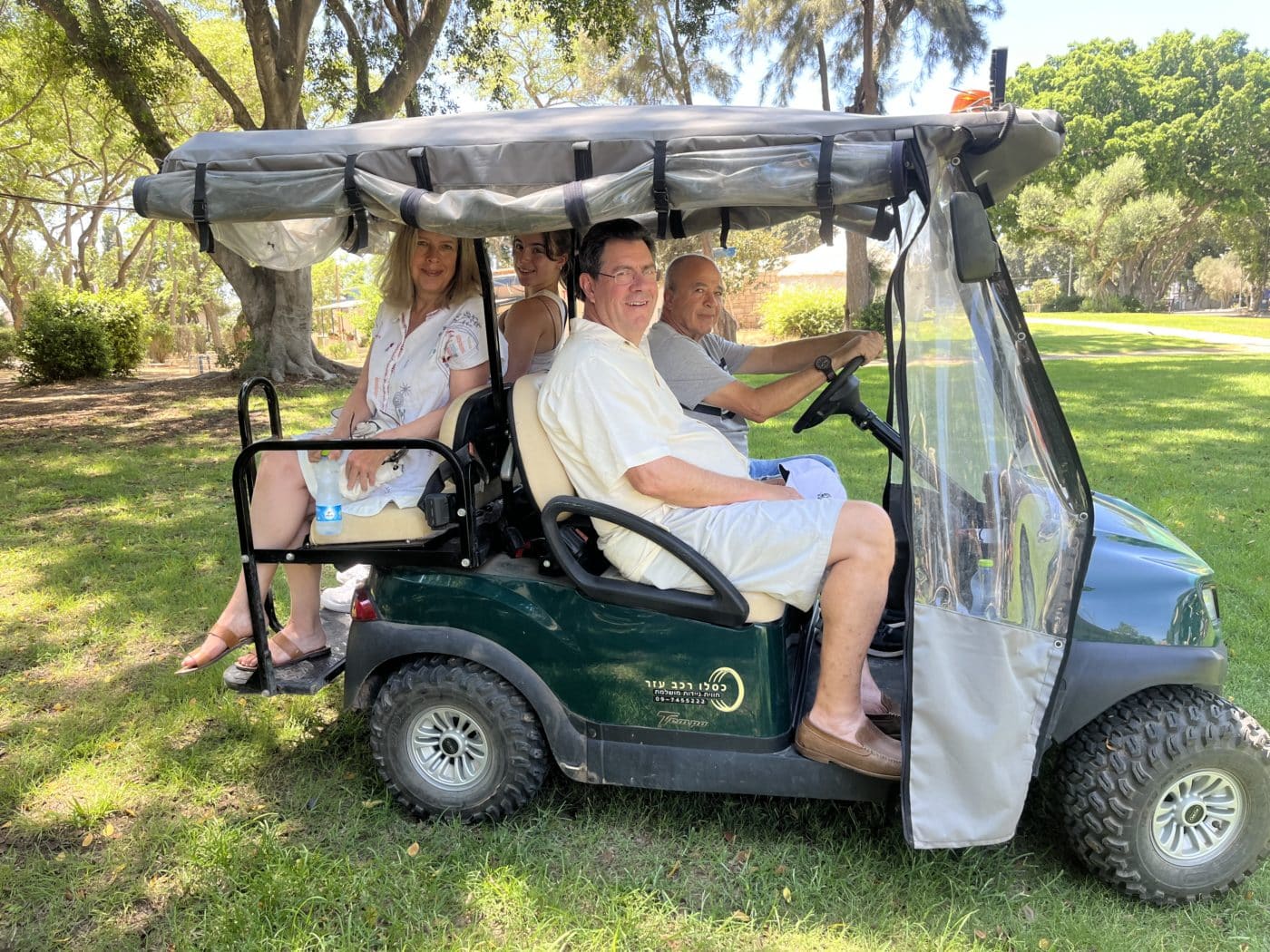 (left) Keith Linch and family and (right) Mark Linch and his family on golf carts, touring the Kfar Silver Youth Village.