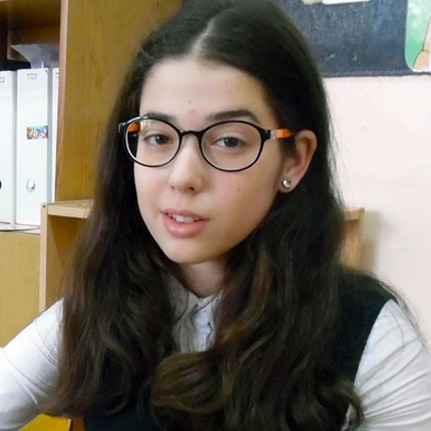 Bella Nayda is a tenth grader at the ORT Gesher School #42 in Samara, Russia. "I'm fond of Hebrew, the history of the Jewish people and Jewish culture. My school gives me the spirit and understanding of my Jewish background, and I'm involved in youth projects in the local Jewish community," Bella relates. She is very committed to exploring her Jewish identity.  "I dedicate time to Enerjew, which brings Jewish teenagers together, and I participated in its seminar in Israel.  I went to Moscow for the Grand Shabbaton with 250 children from Russia and Belarus. Last spring at a festival in Samara, more than 600 people came to synagogue, and I spoke about Jewish holidays at the event."  Being active in Jewish life is important to her. "The education I get at the Gesher School makes dreams come true," Bella says.
In ORT schools in the FSU, an exploration of Jewish roots, traditions and Israel is part of the Jewish studies curriculum.  Without ORT, Jewish studies – in addition to robust STEM* instruction – would cease to exist; donor support is necessary for the continuation of ORT programs.
An Ambitious New Immigrant Thrives in Kfar Silver Youth Village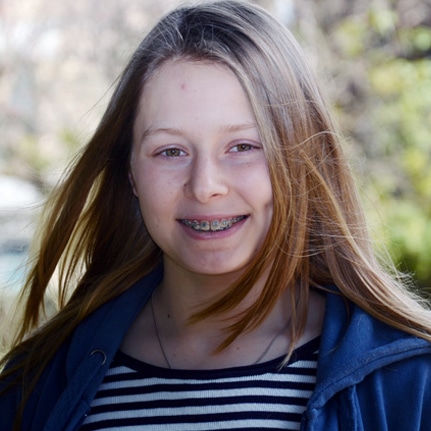 Bella Brodskya, 16, is a boarding student in Kfar Silver youth village in Israel, part of the World ORT Kadima Mada educational network.  She made aliyah at age 13 to pursue educational opportunities her father assessed to be better in Israel, leaving her parents and younger sister behind in Kazakhstan. Bella is a top achiever in chemistry, math, biology, English and Russian, but her experience has not been without profound sadness; her father passed away in 2016 from complications of diabetes. Bella is reflective. "I would like to become a diabetes specialist. It is very important to think about the future if you want to have a good life, and here at Kfar-Silver, the studies are very interesting."
Bella describes the teaching style of her instructors in Kfar Silver, the opposite of her earlier education in Kazakhstan.  "They are very warm and caring, and they encourage students to ask questions and express their thoughts."  Bella has plans for the next chapter of her life.  "I would like my army service to include something related to medicine, and I might join one of the soldier-student programs."
Your support helps ORT continue its worldwide educational programs that enrich the lives of over 300,000 students and teachers.  Won't you please make a generous gift today?