Information Technology Allures Young ORT Students in Samara
Contests are a motivating force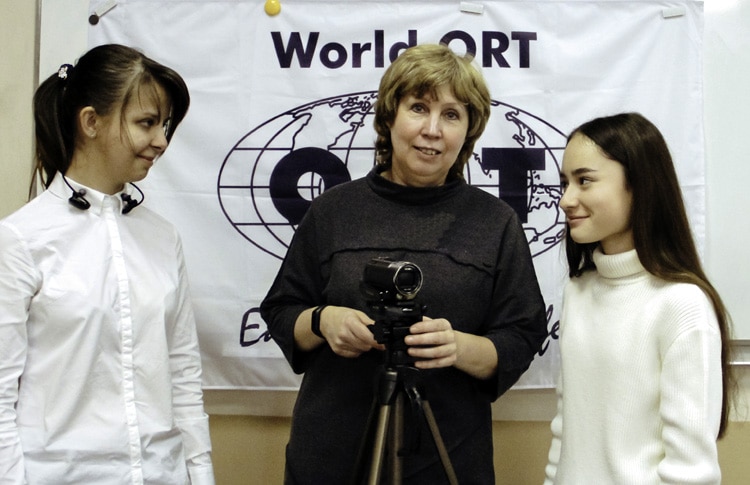 Irina Pogodina, a technology teacher in the ORT Gesher Secondary School in Samara, Russia, has been in this field 16 years.  She is the project coordinator for the very popular student animation, artwork and STEM Cup contests at the school.
"I'm very glad to work in this ORT school, because its up-to-date facilities for different information technology classes motivate the students to study.  ORT provides opportunities to upgrade skills, which has a positive effect on the educational process. Students get a basic education in information technology, which will help them determine their future profession," Irina says.  She mentions some student achievements.
"Anatoliy was the two-time winner of the ORT STEM Cup in the primary school. Second graders participated, and their parents play an active role:  They are interested in details, often come to school, and are involved in the learning process.  And working hand-in-hand makes students and parents closer to one other," Irina says.
She talks about another contest. "The World ORT STEM Communication Award was for eighth- and ninth-grade students. And our student Karina took second place!  Many students prepared for the contest, but only three movies were sent to it. The themes, which were chosen by students, were very interesting: "Augmented Reality," "Smart Things," and "Hologram."
Irina describes how the process to prepare for the contest yielded interesting results for some students.  "To make their movie, students had to thoroughly research a subject, motivating them to study information technology. And participating in the contest was the catalyst for some students to change their future plans.  For example, Karina did a clip of famous DJ and would like to go to the theatre university.  Mariya, one of the best students in information technology, would like to become a system administrator or a graphics editor." Irina adds, "In the ORT technology center, where computer science, technology and many special courses are taught, we not only have the technology, but we benefit from the many methodological advancements developed by teachers at other ORT technology locations."
Irina is proud of the high qualifications of the teachers in her school.  "Over the years, our teachers have participated in many ORT training seminars, and we frequently hold seminars for teachers in our city and region," she says.