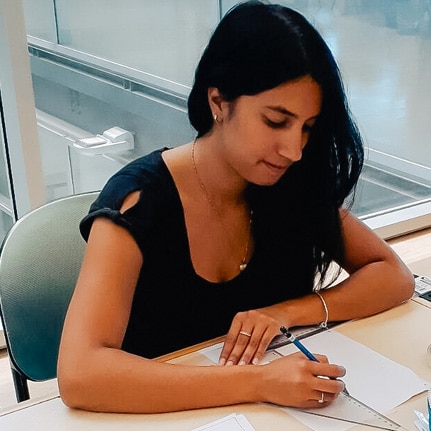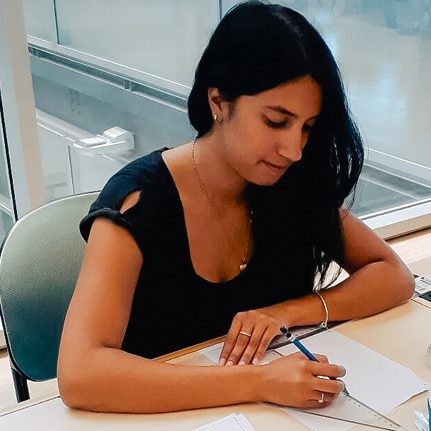 Nofar Tzangauker, 24, is a second-year student in practical architecture and interior design at the Technological College of Beersheva, part of the World ORT Kadima Mada technical colleges network.  A resident of a moshav near Kiryat Gat, Nofar is a recipient of the ORT Marilyn Thypin Student Scholarship, having applied because of significant financial challenges from being on her own and entirely self-reliant.
After graduating from a dormitory high school in Rishon Lezion, Nofar served in the Israel Defense Forces as a warden in a prison for security offenders (terrorists), receiving commendations for her excellent service.  As a college student, Nofar is responsible for all her expenses, including apartment rent and tuition, and has supported herself via babysitting, housekeeping and working in a clothing store.  She is very thankful for the scholarship, which helps finance tuition, her daily expenses including a lengthy commute, and necessary school supplies.  Nofar is focused on garden design, with studies in safety standards, planning, slopes, heights and other aspects, and her grades are a reflection of her dedication and determination:  95 in theoretical engineering and 90 in computer basics.
"I love the college, and feel at home.  If it weren't for the scholarship I wouldn't have managed," Nofar confides.  Visualizing her future, she says, "I want to continue after I finish my current studies, in maybe business management or architecture at a higher level.  I want to succeed and form my own company that will give jobs to other people."  She is very grateful for the scholarship. "I would like to thank Kadima Mada.  Without the scholarship, I would have had to work really hard in a way that would have taken the focus off my studies, and I couldn't have done as well. So Kadima Mada should be proud of their work."
In Sympathy with Victims of Hurricane Harvey
The leadership and staff of ORT America express deep sympathy for the victims of Hurricane Harvey and admiration for the heroic rescue efforts carried out by first responders, community volunteers and all those dedicated to saving lives during this devastating event.   To help relief efforts, ORT America, a recipient organization of Jewish Federations of North America, directs you to the JFNA Hurricane Harvey Relief Fund.