Students from high schools in Jdeideh Maker and Kiryat Ata participated in the Collaborative Problem-Solving (CPS) program sponsored by World ORT Kadima Mada.  Jdeideh Maker is an Arab village in northern Israel with about 90% Muslims and 10% Christians, and Kiryat Ata is a Jewish city not far from Kiryat Yam.  In CPS, a fictional environmental issue must be resolved by students in two different locations who work together online to share ideas and find a solution.  They learn how to collaborate harmoniously in pursuit of a shared goal, and how to work as a team.
In April, the students working together in CPS met for the first time at the Eshkol Pais auditorium in Kiryat Yam.  Luna, from Jdeideh Maker, valued her experience.  "I learned about the environment and the eco-system, and it was beautiful to meet those I was working with."
Ziv, from Kiryat Ata, was thrilled to meet in person.  "It's a great honor to see our mates and get to know them."  He voiced another benefit of the CPS program. "Our generation is not very knowledgeable about environmental problems; this exposes us to them.  We need to be aware of the issues."
The Radio Club of Kazan ORT School Connects to Israel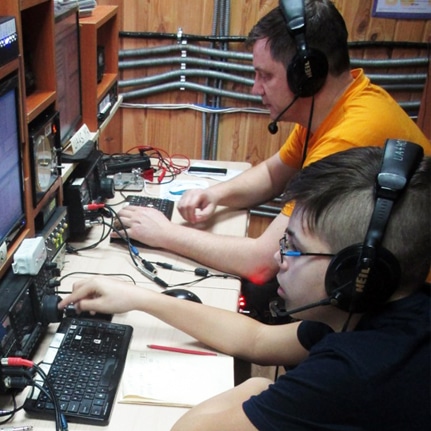 In April, a team of students from Kazan ORT Mischpachtenu School participated in the Holyland Contest 2017 competition, in which radio amateurs around the world conduct radio communications with radio stations in Israel, organized by the Israel Amateur Radio Club. Three Mishpachtenu students joined the school's amateur radio club:  Efim Paer, 8th grade, Arseniy Knyazev, 7th grade, and Ilya Lapin, 8th grade.
The head of School's Radio Amateur Club is Maxim Zabolotnikov, a descendant of the first Jews of Kazan who came from the Pale of Settlement.
During the competition, the Mischpachtenu club received messages from IARC contest manager Mark Stern, who was very surprised to learn the radio station belongs to an ORT network school, and wanted to know about the school.  The students answered about the history of the school, the ORT role in its activities, and the close relations with the Kazan Jewish community.  Mark commented that the station joined the collective of people who love Israel and have close relationship to the country.  And Mark told local Russian-speaking radio amateurs about the ORT Mischpachtenu School radio club, and they were pleased to know about it.
Exciting opportunities, international interaction and dynamic programs make ORT the preeminent Jewish organization for education. Please help further our important work today!