Learning about the history and geography of the Jewish State is only part of the program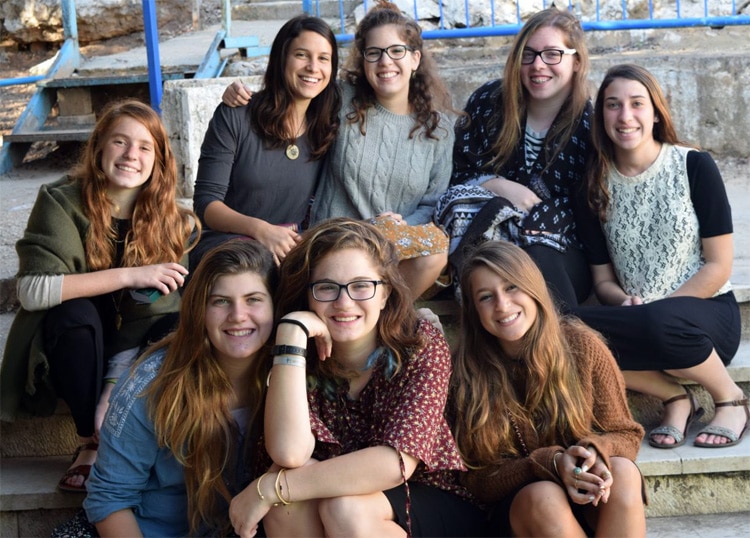 Eleventh and twelfth graders from Ulpanat Bikat HaYarden, a religious school for girls, participated in the Masa Israeli expedition, in which they explored different areas of Israel and learned about its communities, history and character.  The school, in the Jordan Valley, became part of the World ORT Kadima Mada educational network this year and is managed by ORT.
The teens began the expedition with a trek on Mt. Arbel in the north. They visited Gush Katif Memorial Center, took part in Midreshet Nov where they learned Torah, toured the Knesset, where they met Likud MK Yehuda Glick, and they explored Beit Zinati, which preserves the historical legacy of the Jewish community of Peqi'in, a Druze town.  They met Rabbi Shmuel Eliyahu, the chief rabbi of Tzfat, and with Tzvia Riven, whose 16-year-old son was killed in the 2010 forest fires in the Carmel hills, where he served as a volunteer in the fire brigades.
Adi, one of the twelfth graders, had a significant experience.  "This journey rebuilt me; it was four days that meant the world to me; four days to get to know yourself and learn about your abilities. I embarked hugely apprehensive, but I returned with a stronger love for my homeland and my people.  No matter how different we all are, at the end of the day, we are all one united nation," she says confidently.  Adi invokes a concept of Theodor Herzl. "'If you will it, it is no dream' – Herzl succeeded, and so can we all," she says.  Adi is motivated to set goals and strive for them. "Each and every one of us has a role in this world, so let's do it in the best way we can, with all our perseverance!"
Hadar, an eleventh grader, was equally affected by the expedition. She said, "Our goal in this world is to be good people. To live a meaningful life and understand our role, and why we are here. During this incredible journey, I learned quite a lot of things about myself that I didn't know. I met amazing people and rediscovered myself, the Israeli people, the State of Israel and the Torah."  Hadar says the journey gave her something important. "It enabled me to understand what my role is, and that I have a lot of work to do!" Hadar said she is grateful to the school staff who organized the expedition.
Your gift to ORT helps educate thousands of teens across the world. Please make a generous contribution today, and add new dimensions to learning that students and teachers appreciate!