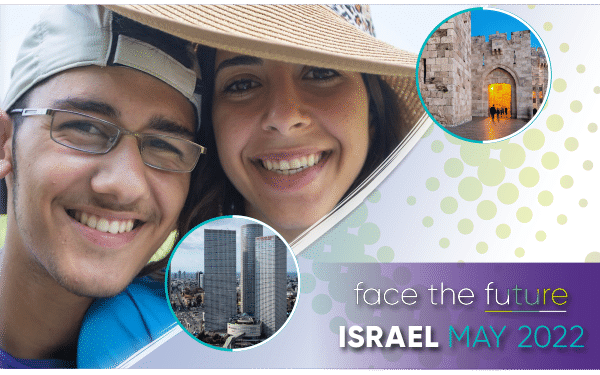 May 11- 18, 2022
Mission to Israel & World ORT General Assembly
Join us for a first-hand Global ORT ExperienceVisit our projects and see the country's bright future through the eyes of ORT students, who, thanks to ORT donors are provided with the tools to achieve life-long academic and personal success. The itinerary includes time in Jerusalem, Tel Aviv, and ORT projects in Kiryat Yam and Kfar Silver.
Save the Date for ORT America 100 Gala
Honoring Dr. Conrad Giles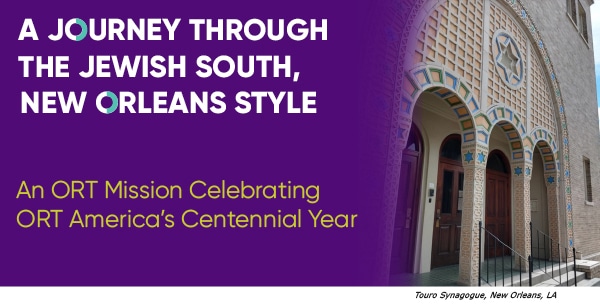 NEW DATES! September 11-13, 2022
A Journey Through the Jewish South
What makes this experience different is the interaction with the New Orleans Jewish Community, which is as unique as the place they have called home for almost 265 years. Historically small, but communally connected, its members have long had an outsized impact on the city's economy, education, culture and philanthropy, mirroring ORT America's core values that have sustained us for 100 years.

Special Planned-Giving Program
for ORT America @ 100
2022 marks 100 years of ORT in America, and we have a special opportunity for you to help us celebrate: The 100 Day Campaign.
From July 1 to October 9, 2022, ORT America will underwrite $500 in legal fees for every new or additional $50,000 in binding gifts added to your estate plan. Contact Robin Isaacson at (212) 547-9150 or plannedgiving@ortamerica.org. To learn more, please click here.
Exclusive ORT America 100 Year Anniversary Glass Plate designed by Lori Charnow

The Florida region has commissioned a local artist to create this one-of-a-kind, glass serving plate which includes the limited-time ORTAmerica@100 logo. Each plate is hand painted just for you!
For 2022 only, we will be featuring this commemorative plate and the art of Lori Charnow. For more information and to order, click here.